Pictures of the "back 40" this year
nippstress - zone 5 Nebraska
July 11, 2014
Hi folks
OK, when I'd posted pictures contrasting my spring garden with last year's magnificent flush, I had some requests to show photos of this years back yard roses, aka "the back 40". I kept waiting for them to feel brag-worthy, which using last year as a comparison wasn't ever going to happen. The amount of surviving cane contrast between last year and this couldn't be more extreme, and even though we've had sufficient rain so far this summer, it just can't compare.
Still, nothing can keep a rose gardener from taking pictures, and it obviously doesn't take too much prodding to get me to show them. I've gotta say, though, if it weren't for the clematis and daylilies and hydrangeas and phlox, this summer would be decidedly "meh" in the flower department. Let's hear it for a diversified garden, eh?
A few of the climbers put on a modest show, including Laguna and Madame Bovary in the foreground, and Bonica and Cornelia duking it out behind.
Thank heavens for the shade garden - for some reason the mix of foliage and flowers always seems to look good and holds the eye. Here the hybrid musks rule, with Heavenly Pink and Petite de Terre de Franche in the foreground, Gartendirektor Otto Linne making a little hot pink statement, Darlow's Enigma holding down the rear as always, and my usually dependable Wilhelm prostrate on the ground with the barest of one visible reddish bloom.
The two of those areas combine with some other part shade bloomers to make a reasonably good flush for the season (Rosarium Uetersen is in the foreground with Smiling Jean just behind).
The rest of the yard is just scattered isolated blooms like this below. Honestly, if it weren't for the clematis and geraniums, all you'd notice in this photo would be the leaf bags and wheelbarrow at the back (always lurking in my yard).
Another version of the scattered blooms - this is probably 10 roses with about 10 blooms, except for The Prince's Trust at the back in the red. Otherwise, it's the clematis again you notice.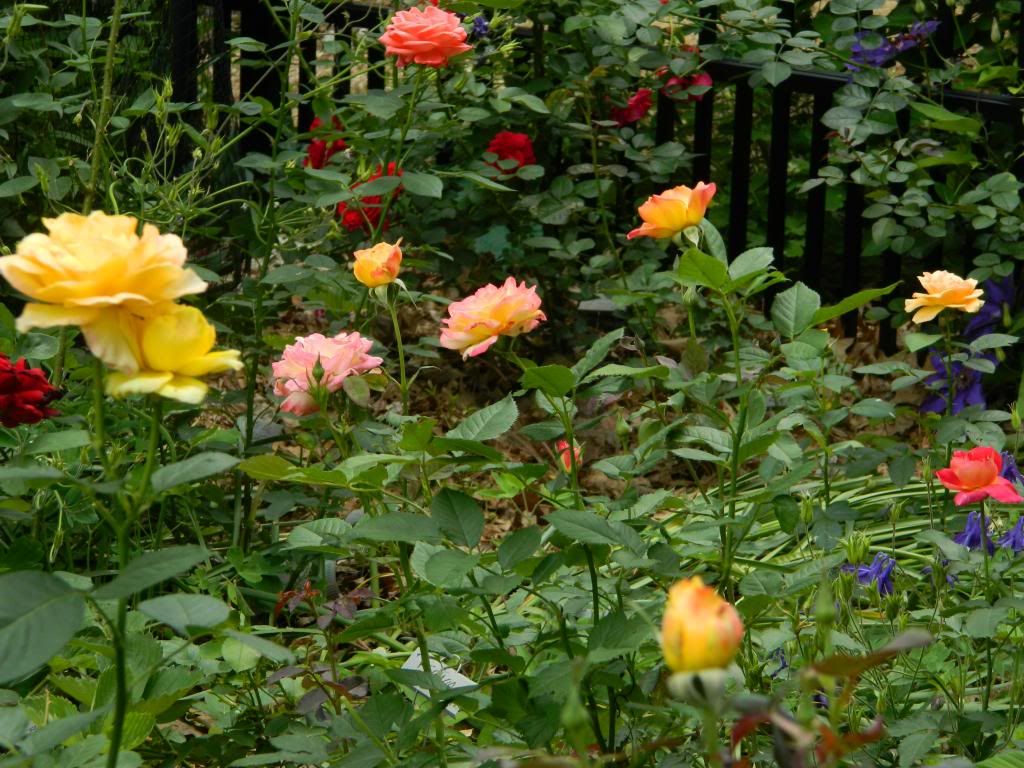 So what am I complaining about, eh? Nothing, of course - there are blooms. It's just that this was the same area in front of the shed last year (sigh). Things will grow...
Cynthia