"Everblooming" roses in midsummer doldrums
nippstress - zone 5 Nebraska
August 24, 2013
Hi folks
I'm here to help adjust some misconceptions about supposedly ever-blooming roses that I may have helped to promote. When we all post pictures here on GW, we tend to post roses looking their best. For years when I was a lurker, I'd sigh at the lovely rose pictures and think, "My roses will never look that good". Now that I'm finally having a good rose year, I'm guilty of the same thing in the photos I post. In fact, here in August I look at my OWN pictures and sigh, "My roses will never look that good (again)".
So I thought I'd do some of the newbies (and myself) a favor and post the roses in midsummer, when they're all tired. Remember that one of the main qualities I select for in a rose is the frequency of bloom and vigor of the plant, so my gardens are as close to ever-blooming as is possible in my zone.
Here's part of my back HT/Flori bed in late July. The foliage actually looks surprisingly good because of the cool temps and optimal moisture we had during July, and the blackspotted messy bushes are mostly disguised by the healthy ones. But you have to look hard to see the blooms...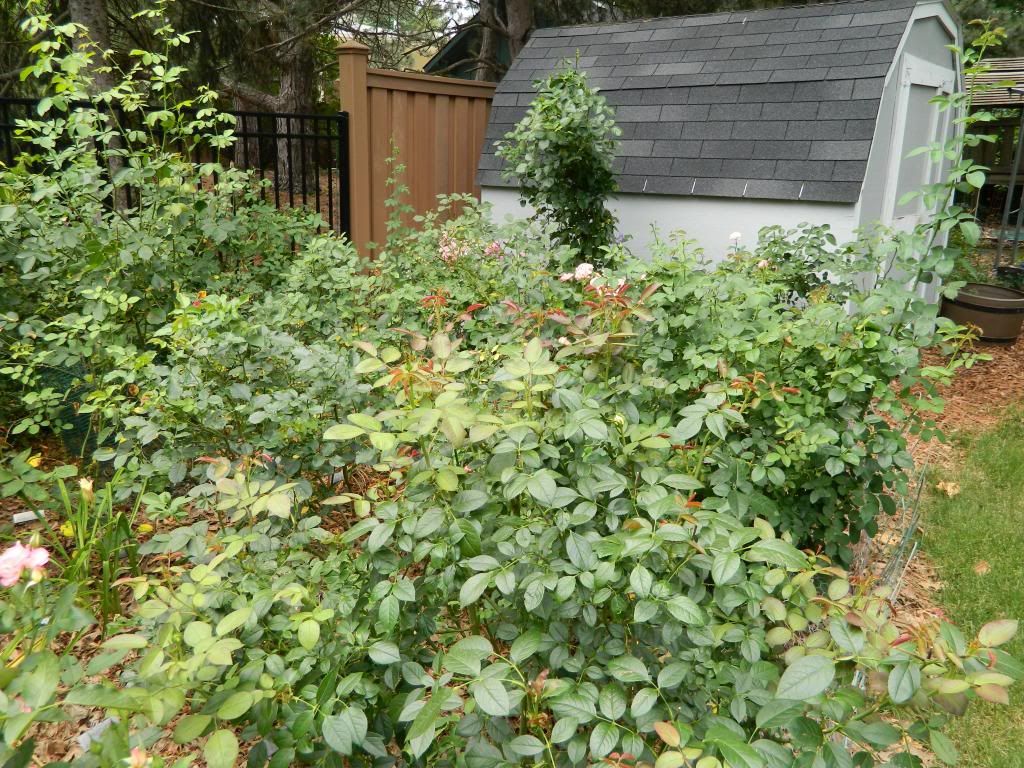 In contrast, here's the same angle on the same bed in the midst of the glorious spring flush:
Here's another shot of a different part of that bed with only a few more flowers: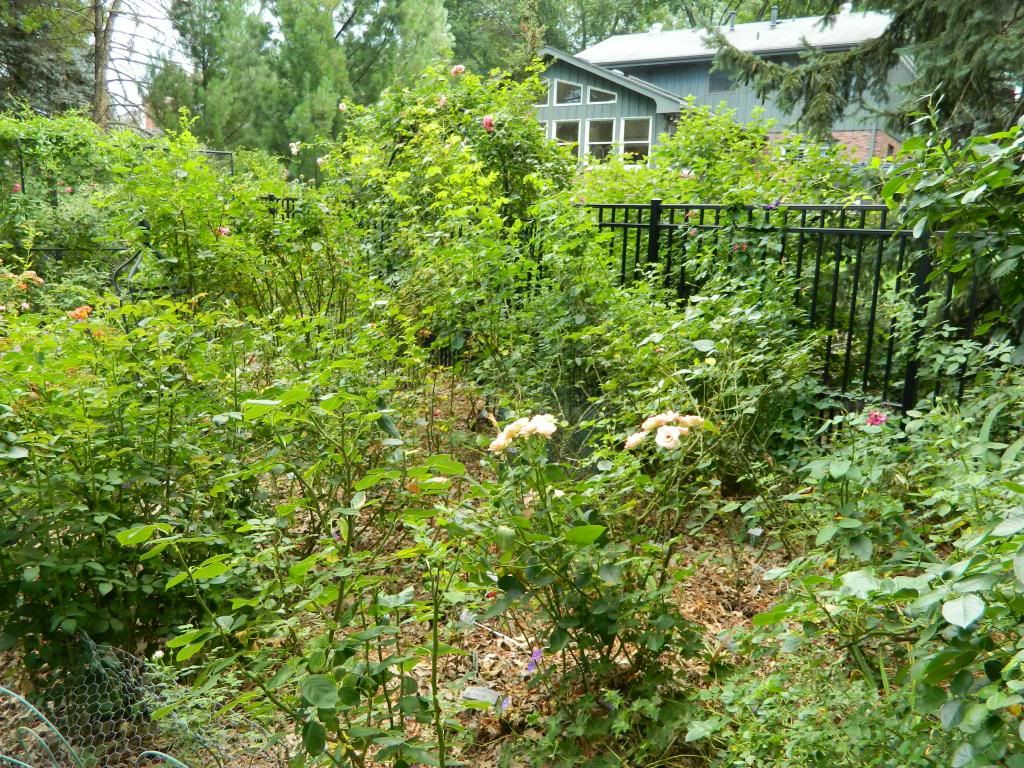 And the same shot in its impressive phase:
So what am I doing wrong, you may ask, if my everblooming roses don't really bloom all season? Not a dang thing, I reply. Every rose (well, almost all of them) has a down period, and the more roses that bloom at the same time (like a spring flush), the more likely the same roses are to rest during the same period. So I pay for my glorious spring simultaneous flush by having an unexciting bed for the recovery time. All of these roses are still rebloomers, and if you look closely a majority of the roses have one bloom each, so it could technically count as "in bloom". There are some notable exceptions to the down time rule, in particular Bad Worishofen/Pink Emely in my yard that has never been out of bloom since May, though I sometimes prune all but a few blooms back to allow the new buds to shine through clearly. Different roses have different down times to some extent, but it's not the rose's fault if we all have unrealistic expectations of reblooming roses.
That's part of the ongoing appeal of roses for me, in fact - I love rebloomers and yet they're a constant source of wonder and surprise to see them reappear after a rest. It's like stopping spring for a few weeks and then having tulips or lilacs reappear midsummer. This is one of many reasons we cultivate patience as rose gardeners, so we don't get frustrated and shovel prune them when they're really just living up to their nature. Ever-blooming is relatively rare in roses, but reblooming is entirely reasonable if we adjust our expectations of what that means.
Just my two cents - I figured this was a good topic to counteract the summer blahs.
Cynthia