Ridiculously Healthy Roses here in zone 4
celeste
(zone 4 NH)
November 27, 2008
I grow well over 350 roses by now and as I add more each year I notice that I am not consistent in keeping up with
my spraying regimen. For most of my short summers here I have little problem with diseases until around August when blackspot becomes an issue. Now that all my roses have gone beddy-bye for the winter I am looking back over the past summers and recalling those roses which stayed 100% clean for me and rarely, if ever, were sprayed. In addition to their blackspot and mildew resistence, they were all vigorous growers and bloomers.
Here, in pictures, are those heroes of my garden. It takes
a great rose to not only stay healthy here, but to also
brave our zone 4 mountain-region winters and rally every
spring. Instead of closeups of individual blooms, I tried to capture whole bushes to show their qualities. These
were all taken in late August to mid-Sept. when most roses
here are looking pitiful.
Celeste
HEAVEN ON EARTH....surprisingly winter-hardy, I don't bother to give her any special attention and she barely
has tip damage come spring. She pumps out dozens & dozens of IMMENSE apricot blooms and her foliage stays glossy and green all summer. A light tea fragrance. One of my favorites and always an attention-getter.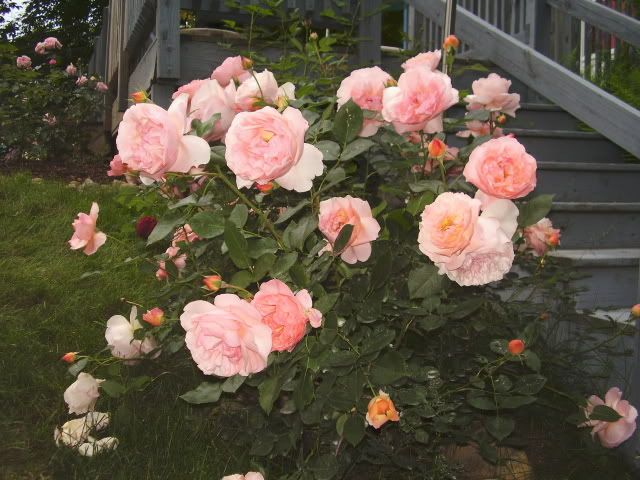 PRAIRIE JOY....this rose is under-rated, in my opinion. I don't understand why more people don't grow this rose....maybe they need some enabling? This rose needs no
winter protection and comes back fully each spring. It pumps out loads of pretty pink blooms and never has a speck of disease. And she is full and bushy without pruning.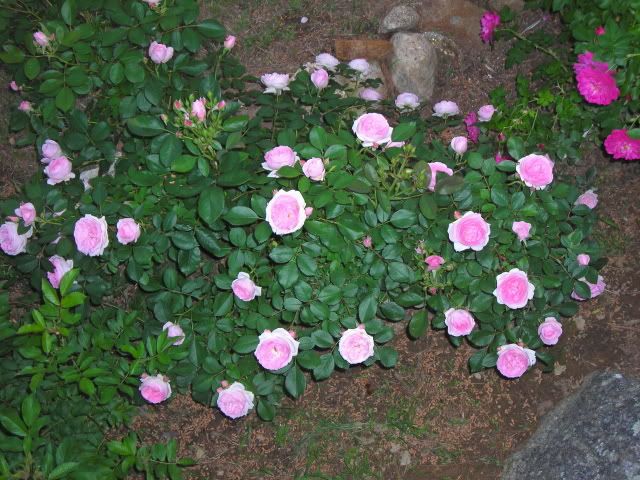 MORDEN SUNRISE....Where do I start? I love this charmer!
The sunny blooms, the glossy & healthy foliage, its winter-hardiness, and even fat rosehips in the fall.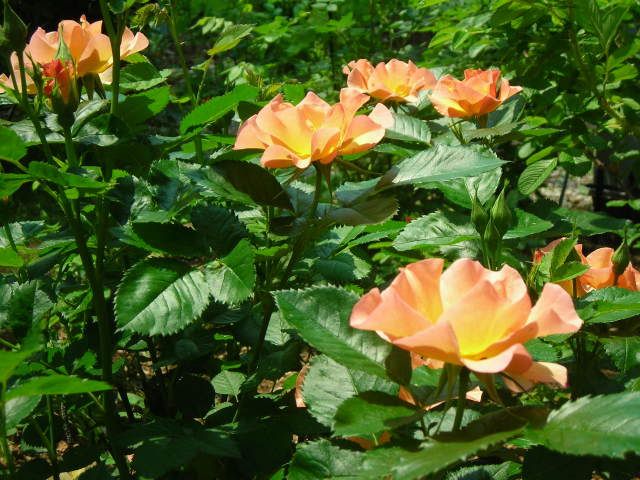 QUIETNESS....if only she had fragrance, she would be a perfect rose. Winter-hardy, vigorous, everblooming, disease-free, and perfection of form and color. (sigh)
She is beloved by me. Here she is, after a rainstorm, a little bedraggled but still glorious.
ROSARIUM UETERSEN....this climber has consistently stayed
disease-free for years. The leaves are so thick and glossy they remind me of holly. It does have minor winter
damage but then again, I don't protect it. No fragrance, just huge clusters of long-lasting colorful blooms that light up my rosegarden. I am amazed by the lasting powers of the blooms. This cluster was 2 weeks old!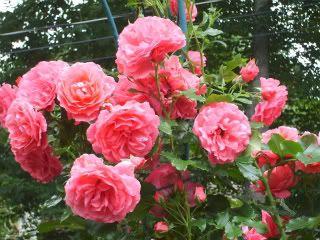 RHODE ISLAND RED...one of the Brownell climbers. Huge, red
blooms adorn a climber with large healthy leaves. Gorgeous
and disease-free for me.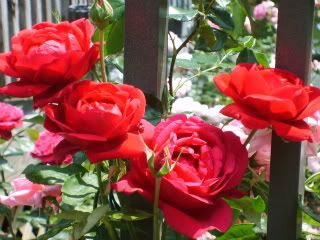 OCTAVIA HILL....why, oh why, is this rose so overlooked?
I very seldom hear of it. But she is amazing. She sends out dozens upon dozens of pale pink, Austin-like blooms in clusters, set among her super-shiny and healthy leaves.
Very robust and disease-free all summer.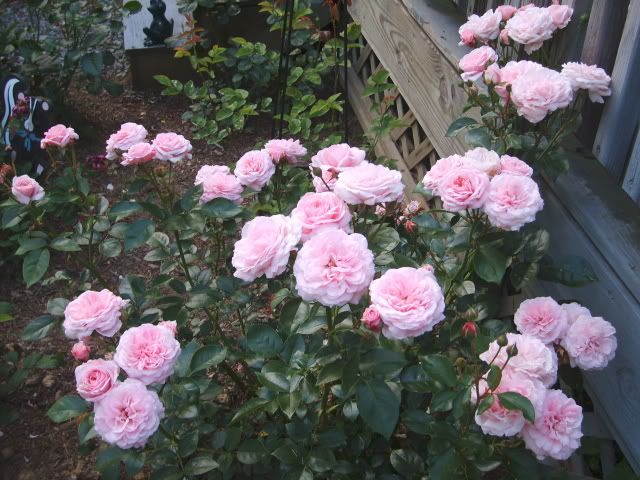 THE GENEROUS GARDENER....This Austin doesn't seem to be very popular, maybe because the waterlily-like blooms shatter quickly, or maybe because this rose wants to be a small climber. And that's exactly how I grow it. On an obelisk, she grows to about 6 feet and the leaves are so shiny people have accused me of spraying something on them.
Surprisingly good winter-hardiness unprotected. Not a speck of disease, ever.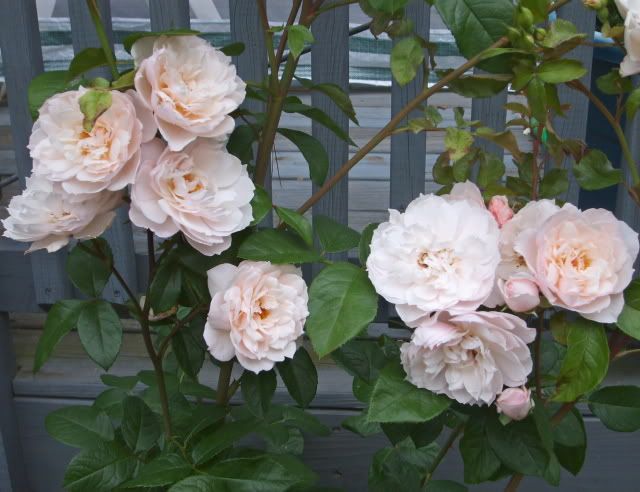 THERESE BUGNET....the queen of my June garden. There is nothing but perfection from this rose. She is one of the hardiest roses on the planet and needs zero protection or coddling. She grows tall, with lovely leaves and scented flowers of pink perfection. Her canes are reddish for winter interest and she even sets hips. An elegant, no-fuss rose that everyone can, and should, grow.
PRETTY JESSICA....OK, I have enabled many here into getting this beauty, but in case you missed it, you will want this rose! She is drop-dead gorgeous, her fragrance is strong and sweet, her form is compact & bushy, she is
healthy, she braves our winters with minimal dieback, she makes wonderful flower arrangements....she is perfect.
MYSTERY CLIMBER....the tag said "Pink Queen", a Brownell climber, but I have researched and never found any rose by that name. Brownell did have several pink climbers, some only bearing number identifications. So I don't know the real identity of this lovely climber. What I DO know is that it is amazing. The leaves are so wonderfully healthy and shiny I use both the leaves and the blooms in arrangements. This rose has a very unique fragrance, so demure and sweet, like a fine perfume. Maybe someone can
identify it? Whatever it is, it is a keeper.
MOTHER OF PEARL....OK, the photo is blurry, but you get the idea. Loads and Loads of blooms, no disease. This and Pope John Paul II are my healthiest hybrid teas.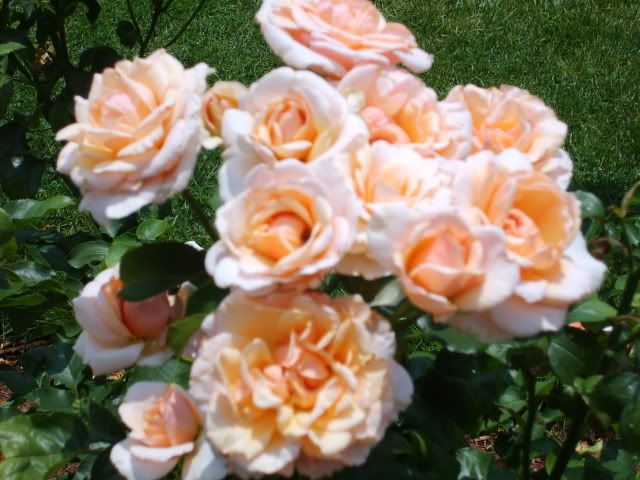 ANOTHER GREAT, HARDY AND HEALTHY ROSE THAT I DIDN'T PHOTOGRAPH, IS CHAMPLAIN. That is one blooming-fool of a rose! Cluster after cluster of bright red blooms, winter-hardiness, and good health. I am ordering another one for spring.
Celeste