Surprise, surprise!! (Pics)
northerner_on
(Z5A ONCanada)
September 16, 2011
A few months back I posted a pic. of an 'unknown' plant which had grown in the container in which I had tried to grow the Nasturtiums that were so difficult for me. Eventually I got just 4 Nsturtium plants after many tries and several sets of seedlings. I knew these 'things' were not Nsties. and had started pulling them out when I thought I'd see if they are 'something'. No one on this forum or on the 'name that plant' forum could identify it, but I just kept it. A few weeks ago the large one seemed to be setting buds and look what it turned out to be: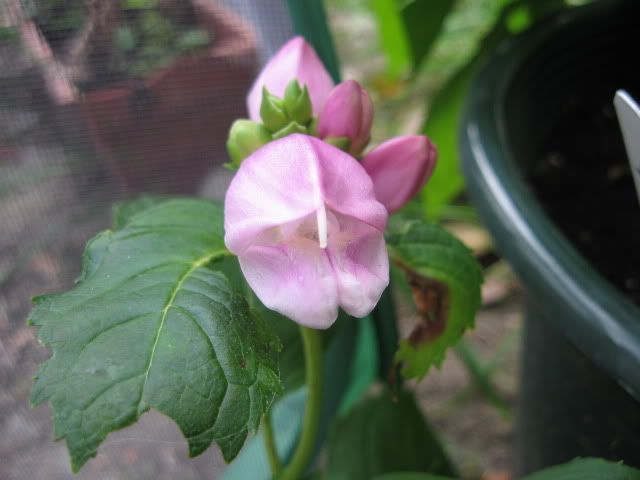 Chelone!! of all things. I love these plants and have been trying to grow them since 2006 when I decided to have a butterfly & hummingbird garden. I never had any success until last year when I was having some germination and an animal dug everything out of the container. I sowed it again this winter and my notes show 'no show' in my comments. I think I may have used that container for my Nasties (I do recycle such containers) and maybe they were slow growers and came up later. I am sorry that I ripped some of them out. Actually one of the leaves of this plant is ripped from that act. Now I'll have to get some more seeds.
The Nasties were worth the wait and the trouble. Here's what they produced:
There's on other success I had this year with Lupines. Each year I planted out the seedlings, the cats would dig them out over winter. This year I covered them with cut off pop bottles and here's what I got. I thought the plants were red, but they came out pink and what a great combination, you'd think it was planned.
And finally, my 'thug' Helinthus Golden Queen has filled out and is gorgeous above the fence. The bees are loving it and it's wonderful in the sunlight. This picture does not do it justice: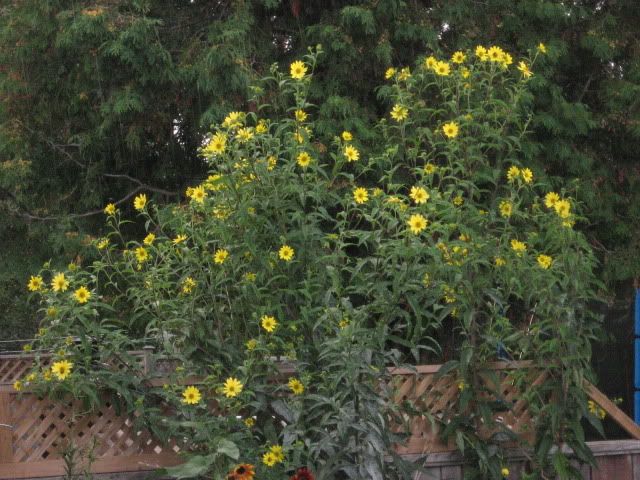 Now I get the chance to start all over again!!
Northerner.