Return to the Fruit & Orchards Forum
|
Post a Follow-Up
---
Apple tree cages
Posted by
George 7
(
og_alltheway@yahoo.com
) on
Thu, Jan 10, 08 at 8:41
How big should cages be to protect young m-111 apple trees from deer. I would like to put cages around some trees for a few years and then take them off after they get bigger.I know people that did that and their trees have done fine without cages now that they are several years old. And what do people normally use for cages? Should I make my own? Thanks for the help!
---
Follow-Up Postings:
| | | |
| --- | --- | --- |
| RE: Apple tree cages | | |
I have used old 4-foot tall used field fencing cut into 13 foot lengths and formed into hoops to go over a tree. Also have used 5 foot and 4 foot welded wire (2x4) from the farmstore, but that gets spendy every time you buy a hundred foot roll. So I cut that stuff into 10 foot lengths to get 10 hoops from a roll. Overall, used field fencing is cheap to free. Ask farmers or fencing companies if you can have some old stuff -- I know one company that offers it occassionally instead of taking it to the dump.

If your deer are aggressive, you may have to tie the hoops to one or two metal posts as well. My deer are rather small, so I only get problems with them past September. They pretty well respect my wire cages all summer long. Even after the trees get up there, I keep a cage around them so the deer don't rub antlers on the bark!

I don't have rabbits, but you may have to watch out for them. I do have mice and voles, so I wrap 6 or 8 inches of used metal windowscreen around the trunks for the winter, all the way to the ground, tying it in place with twine. Keeps the critters from chewing the bark off the trunks.
---
| | | |
| --- | --- | --- |
| RE: Apple tree cages | | |
I use 5 ft. I think 14 gauge wire fencing which you can buy in 50 ft rolls from Home Depot. I cut 10ft lengths so one side has long wire fingers for closing. I weave it to a single 8ft P.T. post well driven into the ground with a post driver. I close it with just 3 or 4 or the wire fingers so it can be opened easily.

Most of the installations I do in a county with very restrictive hunting laws that allow bucks to reach methusa's age. 10% of the time a couple varieties may need 3 stakes and another foot of wire.
---
| | | |
| --- | --- | --- |
| RE: Apple tree cages | | |
This is what I have to do to all my trees in West virginia. Its the only way the deer wont eat them.

I used 4 foot stakes and heavy gauge wire. I keep the wire about 2 feet off the ground, which gives me appoximately 6' total height.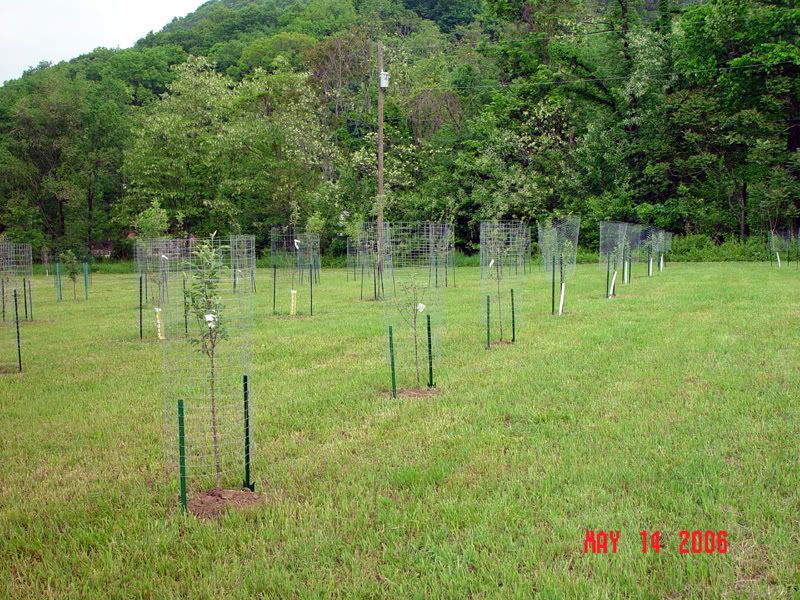 ---
| | | |
| --- | --- | --- |
| RE: Apple tree cages | | |
The terrible state of grass competition at the base of these trees reveals the shortcoming of this system- too hard to get in. Young trees like this should never have to compete with grass- sets back their growth almost as bad as deer.

I have the same species of deer and just as hungry- I'm talking herds and 8 point bucks. The deer even browse on pines and junipers (and junipers are poisonous). My cages take a fraction of the time to install and cost less as well.

Over the years I have installed thousands of trees using my shelters in 3 states and hundreds of sites so I know of what
I speak.
---
| | | |
| --- | --- | --- |
| RE: Apple tree cages | | |
Mr Harvestman...

You must have a reputation beyond belief in the horticultural world.

"...Over the years I have installed thousands of trees using my shelters in 3 states and hundreds of sites so I know of what I speak."

Let us see O' great one...I think its time for you to produce

I do believe in criticism as long as it is constructive. I have a small apple/peach orchard (about 115 trees) that was developed on a whim. I am guilty of not researching properly and doing some things "my way". But as a work in progress, itís coming around. Iím happy to say in my third year, my trees are bearing fruit. Maybe they are not growing as quickly as I would like, but productive none the less.

The best I can tell, this forum, consists of primarily amateur orchardistís that have many questions and ALOT to learn. Most of us are not professionals, but tend our trees out of joy and the excitement to see what they may produce the coming season.

My apologies to the forum for my post, but I have read "thousands" of Mr. Harvestmanís posts. So I too know of what I speak.

"Itís not what you say, itís how you say it".
---
| | | |
| --- | --- | --- |
| RE: Apple tree cages | | |
Joey, ouch! a well deserved attack on my pompous self. I apologize for the impression my postings leave, but it is sometimes frustrating when hobbyists with a few years experience speak with the same authority as someone with forty years full time experience in the soil. It was your assertion that your shelter is the only thing that works that coaxed my boasts, just to try to establish some authority for practical reasons. I have been frustrated when clients have created just such shelters that are a hassle to get into at pruning time and have unnecessary components.

Yes, I am a professional fruit grower but also an amateur fruit grower who got into this for the same reasons as you. I don't feel I am in any way superior to any one else on this forum and I don't post my credentials to lift my ego up or put you down but it takes a lot of time to write these postings and I feel I need to establish the extent of my experience to help the questioner evaluate the quality of my advice. I don't want to see someone go to a lot of extra work that I know is unnecessary.

I'm sorry that I critisized your lack of weed control, but I identify with your poor trees as much as I identify with you and I wrote without considering your feelings. This was wrong and stupid and selfish but I am new to this forum thing and am prone to the mistakes of my imperfect personality.

Best wishes, Alan Haigh
---
| | | |
| --- | --- | --- |
| RE: Apple tree cages | | |
Concrete contractors often leave roll ends (up to 30'!) of 6"x6"x7'x10g reinforcing wire on jobsites. Find the general contractor and get permission before removing. I've scored tons of this. The large openings require a larger diameter cage, and they are self supporting.
---
| | | |
| --- | --- | --- |
| RE: Apple tree cages | | |
| | | |
| --- | --- | --- |
| RE: Apple tree cages | | |
I use hardware cloth cages to keep off deer, rabgits, voles, etc. And mulch with newspaper to prevent weed growth within the cage.
---
Please Note: Only registered members are able to post messages to this forum.
If you are a member, please log in.
If you aren't yet a member, join now!
---
Return to the Fruit & Orchards Forum
Information about Posting
You must be logged in to post a message. Once you are logged in, a posting window will appear at the bottom of the messages. If you are not a member, please register for an account.
Please review our Rules of Play before posting.
Posting is a two-step process. Once you have composed your message, you will be taken to the preview page. You will then have a chance to review your post, make changes and upload photos.
After posting your message, you may need to refresh the forum page in order to see it.
Before posting copyrighted material, please read about Copyright and Fair Use.
We have a strict no-advertising policy!
If you would like to practice posting or uploading photos, please visit our Test forum.
If you need assistance, please Contact Us and we will be happy to help.

Learn more about in-text links on this page here