Return to the Perennials Forum
|
Post a Follow-Up
---
| | | |
| --- | --- | --- |
| Combinations | | |
Posted by
deanneart
z5Southern NH (
My Page
) on
Fri, Aug 7, 09 at 13:38
I thought it would be fun to share some of our favorite combinations from this year's gardens.

One of my long time favorites - Hemerocallis 'Pastel Classic' with Russian Sage

The chartreuse centers of this Hemerocallis 'Preppy Pink' don't show up too well in this photo but it totally picks up the color of the Cotinus 'Golden Spirit' the flowers in the Sedum 'Purple Emperor' echo the color of the daylily.

Dahlia 'Alva's Regalia' with Cleome 'Senorita Rosalita'

Datura metel 'Double Purple' with Ornamental Kale 'Peacock Red'

Coleus 'Eclipse', Fuchsia 'Billy Greene' Coleus 'Mariposa' with Alyssum and Euphorbia 'Diamond Frost'

.
Why don't you post some of your favorites???
Deanne
---
Follow-Up Postings:
| | | |
| --- | --- | --- |
| RE: Combinations | | |
Deanne, those are fabulous combinations. I've been having trouble doing anything with the puter all day, couldn't even post to the main thread, so will try to post one photo, which I can't crop any smaller...grrrr. It's a variegated Solanum just starting to bloom leaning into ballota. The garden is taking a deep breath before fall.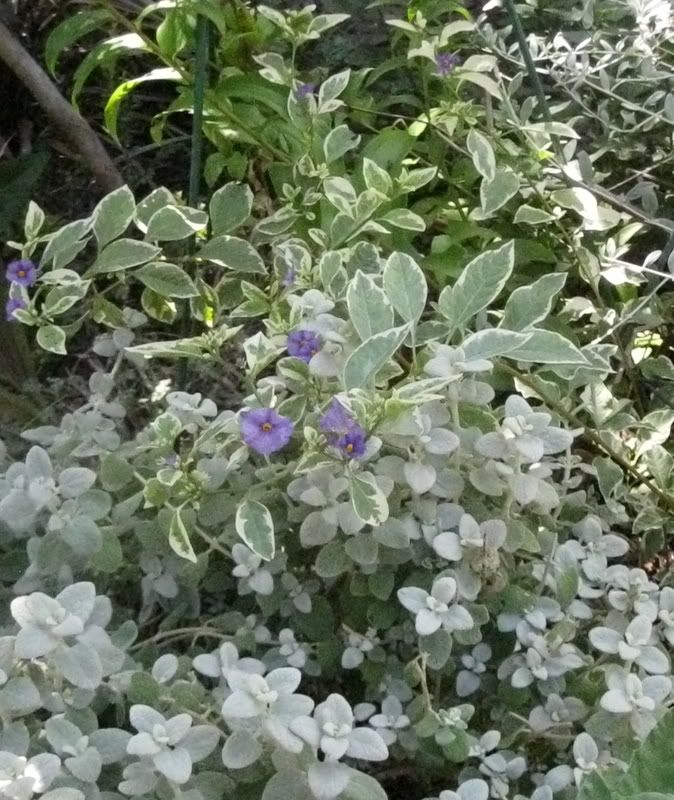 ---
| | | |
| --- | --- | --- |
| RE: Combinations | | |
Great idea Deanne ! We can all copy each other next year, lol.
I had fun looking through my pics and finding combos I liked and have started a separate album for them in my Picasa files.

Before the Nepeta got 'weedy' looking it looked great with the golden Oregano

This is a floppy mess right now , but I hope to re-do next year --needs a bit more sun to work.

One of the containers I like ..

My brilliant combo of Nora Leigh and Casablanca was infiltrated by the Rudbeckia !

Earlier in the season before summer doldrums

Kathy in Napa
---
| | | |
| --- | --- | --- |
| RE: Combinations | | |
I guess I must be partial to silver. I'm drawn to Denise's silver combo and Kathy's silver/white combo. Lovely.
Deanne, the Mariposa/fuchsia combo is gorgeous. I'm sad to say that Mariposa that you sent me didn't survive my overwintering skills, neither did the brug. I looked and looked this spring for that cleome after you bragged it up but came up empty handed. Its a beauty with the dahlia. Here are a couple from my garden.
This one has a nice layered effect.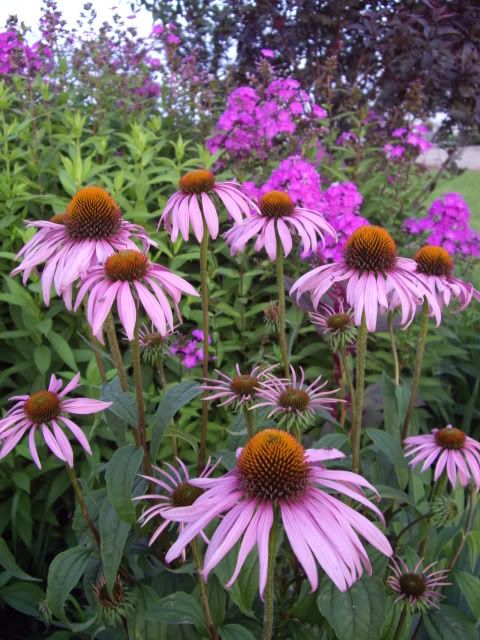 ---
| | | |
| --- | --- | --- |
| RE: Combinations | | |
Combinations are sometimes deliberate and sometimes "just happen". Both can be fun. Here are some of mine...some you have seen before.

Hosta with Coirydalis elata.

Blue Clematis Semu with C.Warsawska Nike.

A collection near the garage.

Sedum Bertram Anderson (or Vera Jameson?) with variegated wallflower.

Clematis Warsawska Nike mingles through Hydrangea Limelight near a deep coloured Echinacea.

A simple, deliberate but pleasing duet: Smoke Bush with Becky daisies.

This year I'm happy with my orange garden, but can't wait for the Angelica Gigas to bloom and add its deep maroon colour to the mix.

---
| | | |
| --- | --- | --- |
| RE: Combinations | | |
OH wow, oh wow, oh wow!!!! This is almost as fun as garden tours. I'm loving all these fabu combinations!

Denise I love that silver combo and that variegated Solanum is beautiful. I've never seen that variety here before. The one I have is more chartreuse and green and not white edged.

Kathy, I love the Nepeta with Oregano. I just finished 'whacking' back all my Nepetas this week so I should have a new crop of flowers in a few weeks. What is that pretty tubular flower in the back of the second photo? It looks like a cuphea with a narrow leaf. It looks marvelous with that red Yarrow.~~ I LOL over your Nora Leigh with Casa Blanca with the Rudbeckia sneaking in, I have exactly that same combination here and am looking at it even as I write this.

Michelle, Love the Echinacea/phlox with the purple shrub behind. Gorgeous! And wouldn't it look great with 'Senorita Rosalita'. Please remind me to send you another cutting of 'Mariposa' in the fall when I do the cuttings. You REALLY need that coleus. It's a beauty and I know you'll love it. ~~ Your container is beautifuland I expecially love the lilies behind it that echo all those colors.

Bug, so many gorgeous combinations! I especially love the clematis climbing through the hydrangea. What a beauty and with the barn board as a backdrop! Ooo la la! And that combo with the Veronicastrum… another beauty!

Thanks all for posting these,,,, come on everyone, more, more, more please?

Deanne
---
| | | |
| --- | --- | --- |
| RE: Combinations | | |
I am definately looking for one of the variegated Solanums , ans the Cleome is on the list too, much better stature for my garden.

Deanne, that red and yellow guy is Lobelia laxiflora , and I don't beleive it is hardy in your zone (not to assume that would stop you, lol) and it can wander too.

Love all the combos, I hope we get some more entrys- maybe I'll post some of Sues and Moniques in thier behalf !
Kathy
---
| | | |
| --- | --- | --- |
| RE: Combinations | | |
Hi Everyone - Your combinations are some of the most beautiful ones I've ever seen! I am in awe. I haven't posted too much on this forum, I'm a regular on the Cottage Garden forum, but I've been visiting over here more and more often. Such great information that you all share here! Thought I'd share a few of my combinations.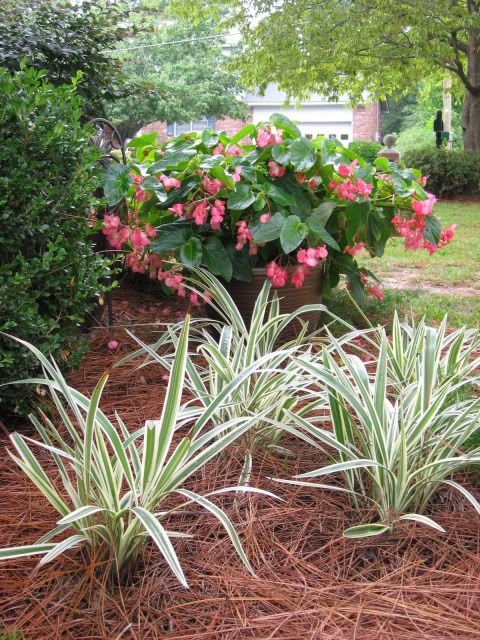 ---
| | | |
| --- | --- | --- |
| RE: Combinations | | |
Kathy, thanks for the info about that lobelia. Bummer it isn't hardy here.

BlondieSC! How great you've joined in on the fun here! I love your pics and especially love the yellow/blue combination in the first photograph.

Deanne
---
| | | |
| --- | --- | --- |
| RE: Combinations | | |
Hi Blondie. Balloon flowers have looked great here too this year. Thanks for joining in!
---
| | | |
| --- | --- | --- |
| RE: Combinations | | |
Hi Blondie, glad you dropped by, and extra brownie points for posting photos ! I lurk over on the Cottage Forum, but have not posted there in quite some time. Stop by any time...the lily in your second to the last pic, the pale yellow , looks like my mystery lily -do you have a name for it ?

I can't resist posting this pic I took at Tower Hill last week --this combo was an eye popper for sure ..

Kathy in Napa
---
| | | |
| --- | --- | --- |
| RE: Combinations | | |
Hey guys...if anyone really cares, the second photo I posted is really C Semu with C Mikelite. Sorry for the error.
---
| | | |
| --- | --- | --- |
| RE: Combinations | | |
'bug, I love the Cotinus with the daisy!
---
| | | |
| --- | --- | --- |
| RE: Combinations | | |
A couple more

Echinacea with Heather. I'm going to replace the single blossomed flowerers with the Pink 'Double Delight'. I was hesitant to replace the whole grouping at first until I saw how the new plant performed and it's a real winner. The flowers are very long lasting and good sized. I want to get more of the new double cone flowers.

Tithonia with Canna 'Pretoria'(Bengal Tiger is another name for this variety)

Abutilon with Coleus 'Freckles'

Deanne
---
| | | |
| --- | --- | --- |
| RE: Combinations | | |
Wow, those last two, Deanne, really speak to me, lol!

'bug, I always care which clems you post, especially since I believe this summer will be the one where I threw in the towel on growing them. I'll just have to be content with something out of the bignoniaceae tribe, much more appropriate for my zone. What an incredible summer for clems you've had.

Remember my moss baskets on tripods? Not striking combinations as far as color, but I'm pleased with the physical/vertical arrangement and will repeat it next year with Mina lobata and eccremocarpus. The tripods sit deep in the beds so photos are not the best but give a general idea. Since they're big vines here, the Cobaea scandens is grown in a separate pot at the base of each tripod and has reached the top, weaving into the moss baskets. It's just starting to bloom with the heat of August, and I've read they sometimes bloom too late for areas with early frosts. Flowers open greeny-white then turn purple as they age.


Closeup of the bloom. A bit of Margarita sweet potato from last year returned, and there's purple verbena too about to rebloom.
Long view of same basket, to see how the tripod sits in the garden, about 5-feet high:
This one has a dark maroon cuphea and trailing variegated crassula, tough stuff that's survived well. I thought the weight of the baskets would topple the tripods, but they're holding up so far.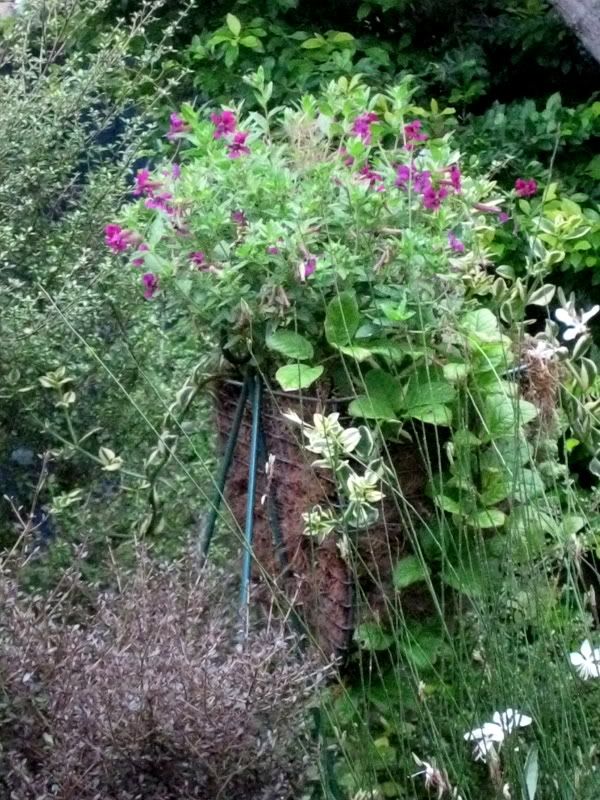 Long view of same basket: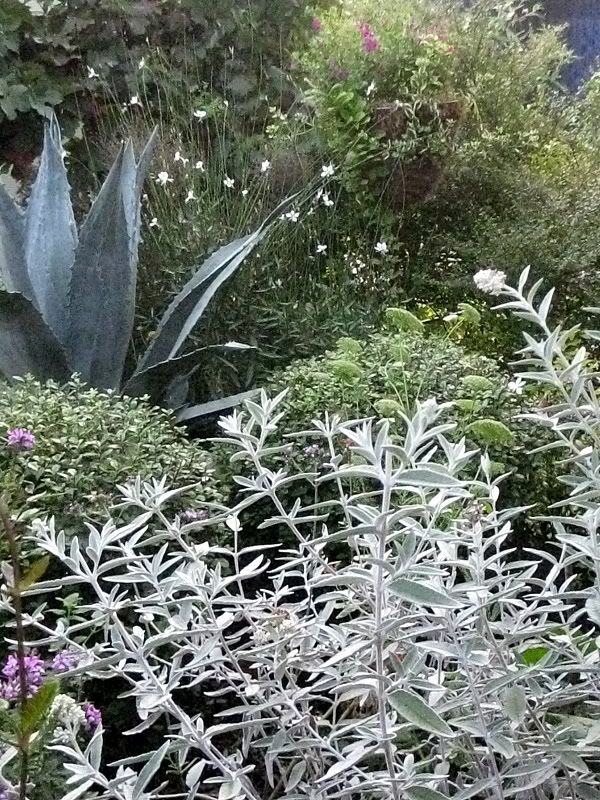 The basket planted with Kent Beauty oregano, bracts going brown. The cobaea is just reaching the top on the left. On the far side of the big agave barely visible is the tripod with the cuphea and crassula.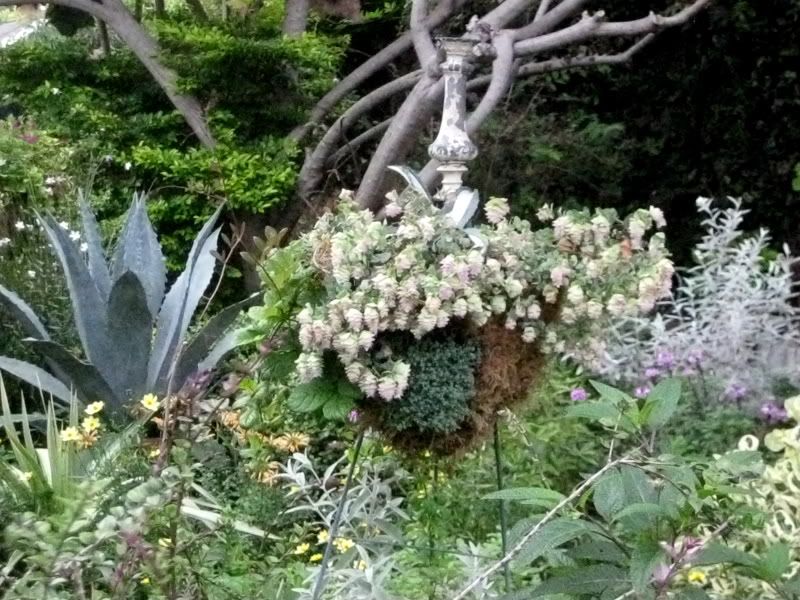 This tripod sits over a dahlia and has no basket since the tripod was too spindly to hold one but also has a cobaea, not yet blooming:
---
| | | |
| --- | --- | --- |
| RE: Combinations redux | | |
I was so focused on not losing the post that I didn't add my comments re the gorgeous combinations. The hosta and corydalis are an instant classic, as are clems through the hydrangea.

Michelle, that container with the papyrus is a stunner. Kathy, that Lobelia laxiflora seems much happier with you, and nice reminder to bring home more golden oregano. Funny how a beloved plant disappears and is forgotten for a while. Love the Tower Hill high-contrast planting.

Blondiesc, gorgeous stuff! Thanks for posting.
---
| | | |
| --- | --- | --- |
| RE: Combinations | | |
Awesome tripod action Denise. I am figureing out how I am going to copy you as we speak, lol. I planted my Kent Beauty in the ground this year and it is predictably flopping all over. It flops prettily but it is a challenge to see the flowers. If I had unlimted funds I would put two or three brick high edging around all my beds and have a better 'cascade enviornment'.

Deanne, that last combo is fabu ! How did I miss that one ? I need to stay longer next time ...

Kathy in Napa
---
| | | |
| --- | --- | --- |
| RE: Combinations | | |
Kathy I love your silvery/white combination in that last photo of your series! And then Denise joins in with more! Denise, raising the colourful plants up several feet is brilliant. I love the textures too - the tree bark, the foliage - just beautiful. Looks cool too!

Deanne, all my coleus look filagreed these days, not lush and gorgeous like yours. See?

Beware, reality shot!

---
| | | |
| --- | --- | --- |
| RE: Combinations | | |
Thank you for the nice welcome everyone!

Kathy - I'm afraid that the pale yellow lily is a mystery to me as well. I do know that it is producing more and more buds every year.
---
| | | |
| --- | --- | --- |
| RE: Combinations | | |
Oh, what a wonderful hit in finding this on search for combinations! It's like I walked into the wardrobe and came out the back into a paradise of color, texture, foliage and blooms, not to mention fantastic photography.

I'll quickly share a picture and then return to more thoroughly read and enjoy the captions and comments. A childish crime, opening the package without first reading the card!
---
| | | |
| --- | --- | --- |
| RE: Combinations | | |
You better check out the IU6 threads too Candy, this is just the tip of the iceberg !

Kathy in Napa
---
| | | |
| --- | --- | --- |
| RE: Combinations | | |
Welcome Candy and Blondi. Some of the finest gardeners and photographers hang out here (I'm not claiming to be either LOL)

Deanne, I love the color echoes of the Abutilon with Coleus 'Freckles'

Denise, I love all the silvers and purples. One of my favorite color combos. I planted cobaea scadens this year and it just hasn't been warm enough for them. I've had good luck with them in the past. They are so pretty.

I noticed this one this a.m. I like the red leaf stems of the var. KMOGG with the amaranth and castor bean.

---
| | | |
| --- | --- | --- |
| RE: Combinations | | |
Wow, Hi Candy!!!! How great to see you here. I just love your Hosta combo! Gorgeous, gorgeous. Welcome and thanks for posting.

Denise, I agree with Michelle, I just love all the slivers and purples in your photos and those moss basket tripods are wonderful.

Michelle, love that Castor Bean/Amaranth! Ooo lala!

Deanne
---
| | | |
| --- | --- | --- |
| RE: Combinations | | |
Im loving the combos all -- Deanne, whenever I see your first one of the pink daylily w/ Russian sage, it's such a classic, but so stunning -- I hate the idea that you might rip your daylilies out when I see something like that....

And that dahlia w/ a simple pairing of the cleome -- luscious...

I love seeing the tripods even more full and lush this year, Denize -- really neat w/ the succulents in foreground or background...

I love each one I've seen from every poster and how nice to see new posters as well who offer their own imaginative groupings -- welcome.

-Cindy
---
| | | |
| --- | --- | --- |
| RE: Combinations | | |
Kathy, you were right…tip of the iceberg, yes indeed! I should explain that when I did my search for combinations, it came up under the perennial forum and it wasn't until I couldn't find my post or the thread in Discussions or Gallery that I discovered conversations and to what you were making reference. Talk about reeling around in sensory overdrive!...so much beauty, tiny detail to landscape vistas, just fabulous!

Also, let me echo BlondieSC in thanking you for the welcome and gracious response. How great that this group has a lengthy history of friendship, sharing your love of gardening, families and life in general!

And Deanne…the name clicked last night. I'm certain you posted a photo several years ago on the hosta forum. Two or three huge Frances Williams beauties in a group setting, with a very cool shed trimmed out in complimentary colors nearby. Michelle, I want to connect you with a super neat shed, too!...maybe cottage gardens or the cutting garden where I lurk now and then. Isn't it fascinating how a photograph can stay in our mind's eye long after we originally view it!
---
| | | |
| --- | --- | --- |
| RE: Combinations | | |
Candy you are good! I do post some over on the Cottage Garden and I do have a shed. I lurk on the cutting gardens but don't post. I love arranging flowers and who better to learn from than those doing it as a business.

Michelle
---
| | | |
| --- | --- | --- |
| RE: Combinations | | |
Candy, glad you enjoyed the photos ;, there are a plethora of them right now as we have just completed our annual get-together and the cameras were clicking ! Coincidentally, I think I wandered over here the first time after viewing photos of Deannes gardens-her containers I think, a few years ago.

Michelle, what is the name of that Amararanth ? I think it's that same one Sue has, and I would love to try it next year.

Kathy in Napa
---
| | | |
| --- | --- | --- |
| RE: Combinations | | |
A combo from Sues--I didn't get a very good shot of this but I really liked it...


And Les and Moniques --the room for grand scale there, this was really awesome!
---
| | | |
| --- | --- | --- |
| RE: Combinations | | |
Candy, wow, you have a great memory yes indeed I did post a photo of my shed with Frances Willimas on the Hosta forum years ago now. Cool that you remembered that. Those hostas are still there althought I fight a constant battle with voles to keep them there.

Kathy, I love that persicaria/daylily combo at Sue's and I love that back side of Monique's border. Is that her 'Silberlock' in the middle? What a beauty.

Deanne
---
| | | |
| --- | --- | --- |
| And another couple | | |
I noticed this yesterday when Walating about with my camera. I really love the pink surrounding the veining that echos in both Caladium and Coleus leaves. I wish the fuchsia flowers had been open but they pick up that pink as well.

One from July, the Orienpet lily 'Taragona' with Heliopsis

Deanne
---
| | | |
| --- | --- | --- |
| RE: Combinations | | |
I can almost smell those Orienpets Deanne!

Love Sue's combination too! Heck, I may even learn to like red flowers soon.
---
| | | |
| --- | --- | --- |
| RE: Combinations | | |
Kathy, that one is amaranthus Oeschberg. I could easily send you seeds. I planted it last summer and it reseeded nicely in my garden.
---
| | | |
| --- | --- | --- |
| RE: Combinations | | |
Michelle, I would love seeds..Email me when ready and I'll verify address if needed--thanks!

Kathy
---
| | | |
| --- | --- | --- |
| RE: Combinations | | |
Great idea for a thread, Deanne. I am always looking for a new idea for a pretty pair.
I like that daylily and russian sage combo. I am appreciating my russian sage this year more than ever. Your Dahlias are always stunning and such a pretty pairing with the cleome.

Kathy, really interesting composition with the Achillea and what looks like nigella? What else is in that photo? The 'before summer doldrums' is so neat. What is the white, and it looks like miniature dill but can't be. [g]

Michelle, I really like that container combo. Nice color echoes there.

Marie, love your 'garage collection'. Haven't seen that Heliopsis Loraine Sunshine in a container. I like it that way. And I'm in love with that Hydrangea/Clematis combo!

How nice, newcomers! :-)

Blondie... I really enjoyed seeing your combos, too. Yellow and blue is always such a cheerful combination. Quite a nice large single pot of begonias, I enjoy that look. Your daylily and Lily combo is pretty too.

Candy...neat combo with the hosta and is that plumbago? I've thought about adding that for the red fall foliage.

Deanne, that abutilon with Freckles is another one of those color echoes that you are so good at. You have a great eye for color. 'Taragona' with the Heliopsis is very pretty too.

Denise, I've always wanted to try Cobaea. I really liked that tripod/moss basket idea. I like that basket with the purple. Purple and silver are a combo I always enjoy. What is that plant that is so airy in the 'long view'? Almost looks like gaura, but probably isn't. You always have such nice airy plants that lend a certain dream quality to your garden.

Michelle....that is a nice full amaranth there! I am always chicken to grow it, fearing the reseed from it. [g] Very pretty with the castor bean.

I don't have much going on in the combo department this year. I did have a surprise combo of the Casa Blanca Lilies with All Summer's Beauty Hydrangea. I thought I yanked all the Casa Blanca last year but it came back and I had already moved the Hydrangea there. Luckily they were not on top of each other.....
I've been happy with two new additions to my front bed this year....ornamental oregano and 'Karley Rose' Pennisetum...
---
| | | |
| --- | --- | --- |
| RE: Combinations | | |
Another I'd like to add.

PM the amaranthus reseeded but not horribly and its easy to pull. The Casablance/hydrangea combo really appeals to me. I've never been able to get my hydrangeas to turn blue. Do you give them the aluminum sulfate?
Will do Kathy. Keep your eyes peeled you may see some other seeds you need from me.
Michelle
---
| | | |
| --- | --- | --- |
| RE: Combinations | | |
Such fun here ! I think a combo thread would be a great idea for each season, including winter-it would be interesting to se whet we can come up with during total down-time.
We should definitely have another for fall.

PM I see that you are once again getting shots from ground level with the new camera ! It is Nigella in my pic, the last gasp ! The red –yellow plant is Lobelia laxiflora..this entire display is currently laying on it's side and I need to move the stuff to a better exposure for all day sun, which all of the plants here appreciate. See below for a coseup of the Lobelia.

Michelle, terrific ! The hostas and the grasses look great together ..

Kathy in Napa
---
| | | |
| --- | --- | --- |
| RE: Combinations | | |
Michelle...I like your combo. Nice placement of the Hakone grass. It will look lovely spilling over that wall as it gets bigger. .... No need to add anything to have blue hydrangea here. Most of the northeast is a little acidic. I would like the pink blooms and would have to add something to get those.

Kathy, I really liked that combo and I wouldn't have thought that was a lobelia. It's very cute.
---
Post a Follow-Up
Please Note: Only registered members are able to post messages to this forum.
If you are a member, please log in.
If you aren't yet a member, join now!
---
Return to the Perennials Forum
Information about Posting
You must be logged in to post a message. Once you are logged in, a posting window will appear at the bottom of the messages. If you are not a member, please register for an account.
Please review our Rules of Play before posting.
Posting is a two-step process. Once you have composed your message, you will be taken to the preview page. You will then have a chance to review your post, make changes and upload photos.
After posting your message, you may need to refresh the forum page in order to see it.
Before posting copyrighted material, please read about Copyright and Fair Use.
We have a strict no-advertising policy!
If you would like to practice posting or uploading photos, please visit our Test forum.
If you need assistance, please Contact Us and we will be happy to help.

Learn more about in-text links on this page here