Return to the Ponds & Aquatic Plants Forum
|
Post a Follow-Up
---
| | | |
| --- | --- | --- |
| Been Missing From Here | | |
Posted by
chickadeedeedee
z 6-7 ish Ohio (
My Page
) on
Tue, Mar 11, 08 at 19:47
Hiya. Hope all is well with everyone! Sorry I haven't been around much to inflict my stories on you. Too much real life going on at Camp Nappy. Some good. Some not so good but such is life, no?

I'll try to make this update in a semi chronological order. First was one of the sadder occurrences with the passing of a feathered friend ....

Someone found him nearly buried in the late winter snows of the year 2000. He had a broken leg and was near death from the injury and cold. The broken leg, that was thinner than a toothpick, remained attached by a tiny piece of skin. There was no saving the already blackened limb so I completed the amputation.

He was warmed up and given antibiotics and a lot of tender loving care. It is not every day that I meet a Dark-eyed Junco face to face. And what a beautiful face he had! I contacted my avian Veterinarian friend and asked if Mr. Junco could be fitted with a prosthesis to make his life easier. Alas, there was no such item but Mr. Junco very quickly recovered and adjusted to a one legged life in captivity.

He was free to mingle and play in the aviary. He was a little smaller than the sparrows and finches but he got along with everyone. Mr. Junco never failed to keep us company while decorating the Christmas tree. His sweet song was a continuous serenade throughout the month of December and beyond. Mr. Junco sang his sweet song at all hours of the night too.

This spring he seemed weak and was placed in a cage. The first time since a week after he came to stay with us seven years ago. The Avian Veterinarian suggested he remain more isolated as he was getting up in age and the stress of being in the free flight aviary may be too much for him. Mr. Junco had a large cage and a variety of seeds, fruits, mealworms and a dish of water for a nice bath. Within 2 days Mr. Junco seemed to recover his strength and was singing happily at all hours of the day and night again.

He looked so good we thought to let him back into the free flight area again, once the Orange Weaver Finches were done with their nesting. The Orange Weavers are *VERY* aggressive at this time. Mr. Junco never made it back to the free flight. He died suddenly late last year.

He was an adult when he came to live with us and it is estimated they can live 8-10 years in captivity but only 2-3 years in the wild. He was wrapped in a paper towel with a flower design and buried under some violets.

Oh Mr. Junco ... You always remained wild and barely tolerated our intrusion into your territory. You would fly up to the highest branches or go behind a limb and stretch to peek over and keep an eye on us. Although you knew us for so many years you never quite trusted that we would not suddenly make a quick meal of you.

Mr. Junco, you'll never know how much happiness your cheerful nature brought to our home. :*-(

*~*~*~*~*~*~*

We continue to see *our* Mr. Cardinal almost daily. He's lookin' good! No new wild additions. The Blue Jay and Grackle continue to do well together. They even have a game where one flies down, picks up a birdy toy, flies back to a branch then tosses the toy toward the other bird. The other bird then flies down, gets the toy and does the same. The game ends once the toy lands in the bird bath. Maybe that is the object of the game? LOL!

In January I was feeding the avian inmates and looked up to see a new addition! Ooooo! A sweet little Orange Weaver Finch! We had one in 2006 who fledged on Christmas Day and now we have another! Soooooo precious! :-)

Then something we call The Crud hit Camp Nappy. A severe sinus infection that became bronchitis and progressed to pneumonia. I got them all. Two days after I thought I was cured of crud, I got Influenza and was sicker than I have ever been for about 5 days. The others at Camp Nappy escaped with a cold and / or sinus infection.

Daisy started coughing. She was very ill for a few weeks with an autoimmune disease. She's doing great now. Even managed to pull down a log that holds suet plugs and was dining on that this afternoon. :-) Glad she's OK. LOL!

One of the Cockateils was missing on and off for a while. We suspected he may be sitting in a nest but didn't really take the time to check because we were all fighting the crud. He and the other Cockateil would appear in the aviary and eat so everything was fine. That is until one of the Green-Cheeked Conures got out and made a Mafia-type hit on Oblio. He bit the Cockateil in the leg and broke it just above what would be his knee. So Oblio needed to be anesthetized and got a splint on his leg.
He's needed several antibiotics and pain medication and multiple rechecks with the avian specialist and new splints but he's doing better 4(?) weeks later. Normally he would have been healed in 2 weeks but because it was a bite and an open fracture he's taking longer.
As is the norm at Camp Nappy, during all this drama,there was more drama. Mike needed to get arthroscopic surgery on his knee. He's doing fine too. No apparent Mafia hit was responsible for Mike's knee job.
Then we had proof of what Oblio and his Mrs. had been doing. We suspected they had a nest. Then I saw a young Billy Idol in the aviary! OY! We had a baby! :-) Sorry for the crappy picture.
His / her feathers look scruffy because they are still coming in. What a cutie! :-) So Oblio is still recovering from his fracture and Mom is caring for the chick solo. The Conure hit man was placed in lock-up! LOL!
Then there was the blizzard this weekend which was fun! :-)
I'm thinkin' that's about it for this report. Probably a good thing since most of you have drifted off to sleep by now.
Sleep tight. Stay toasty!
C3D
---
Follow-Up Postings:
| | | |
| --- | --- | --- |
| RE: Been Missing From Here | | |
Gee, chicka, I'm never bored by your stories! What a cute baby. (I'm resisting the temptation to speed over to the corner pet store to go get myself some little birds...)

I'm glad you're better. That sounds like you had a few really tough weeks. Here is something to recover with.

Btw, OBLIO???? Why does that sounds so like I should know the reference? ... Hmmm ... early seventies...? Arrow?
:) Mary
---
| | | |
| --- | --- | --- |
| RE: Been Missing From Here | | |
Aren't you a sweetheart! Thanks for the soup, Mary! :-)

Yes! Oblio ... the little boy who was banished to the Pointless Forest from the movie The Point. *Loved* the Rock Man!

You are most welcome to have Oblio Jr. Honestly we do not need another bird!
---
| | | |
| --- | --- | --- |
| RE: Been Missing From Here | | |
Drifting off? No way!
But here's wishing you a more boring month ahead - healed, healthy and happy.
Mary I think you must have been a very famous chef in your 1st life!
S
---
| | | |
| --- | --- | --- |
| RE: Been Missing From Here | | |
Chicka-ricka-dicka-dee-dee-dee-doo,
So it is all quite "NORMAL" at Crazy Camp Nappy.
Good to read you both are coping with the stuff life throws at ya.
"Horton"
---
| | | |
| --- | --- | --- |
| RE: Been Missing From Here | | |
LOL!! @ "normal". Oy, unfortunately, that sounds true!

You are SO not boring, Chicka! I'm so sorry about your illness, too! I hope you got it all out of your system, and you never have to go through that again. *HUGS* So very happy to hear that Daisy is feeling back to "normal" again.

Tears and rainbow thoughts for darling Mr. J. Woohoo!! to Mr. Cardinal, that rock star! Speaking of which...LOL!!!! @ young Billy Idol!! Big, wet kisses for his Pa...dang mafia, anyway.

AND! I hope you have major snow melt soon! Thanks for my (never boring) read of the day!

Brenda
---
| | | |
| --- | --- | --- |
| RE: Been Missing From Here | | |
Awwww. Thanks everyone! :-)

Little Oblio Jr. (a.k.a. : Dennis the Menace, Billy Idol, Sleepy) is a wonderful little bird! Takes after his Mom and Dad! Oblio may get his splint off next week (she types with fingers crossed.) The Society Finches had chickies too. We have a few birds here but dearly miss Mr. Junco! He had his routine and we loved it! :*-(

SIGH

Yes Mr. Horton, 'tiz be true. Camp Nappy trudges on with its version of ~normality~. Life keeps throwing stuff at us and we are no longer able to duck! (Or Goosi.) LOL! Gotta be tough to survive the Camper experience.

Blizzard last weekend you say?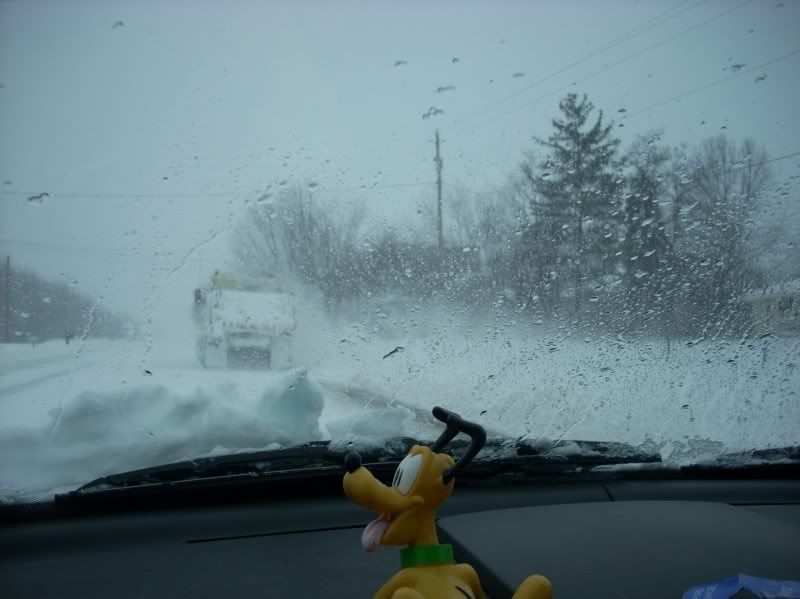 Didn't stop us from going to the West Shore Orchid Show near Cleveland. Took us twice as long as normal but we had a great time with the other FIVE people who came to the show in addition to the vendors.
We had a great time and got lots of new orchid planty things that I *needed* as well as a few for a dear friend in Florida. :-)
Snow is a melting Brandy. It is supposed to rain tomorrow. WoooooooooHooooooo! Flooded back yard again! Muddy doggies again! Muddy house again!
Abnormally yours,
C3D
---
| | | |
| --- | --- | --- |
| RE: Been Missing From Here | | |
Camp Nappy nuts, that poor wee animule sitting on the dashboard, looks as if he is in dire need of a tranquilizer or two. So he will manage to complete the journey in one piece!!!???
Just a friendly observation.
"Horton" [RCG Observer Corps]
---
| | | |
| --- | --- | --- |
| RE: Been Missing From Here | | |
Mr. RCG Observer Mogali,

The look on the animule is identical to the look everyone else had during the drive through the blizzard! We only got stuck in the parking lot for the show five times, once in the road and permanently stuck in the driveway after the orchid show.

We might have had a wine scan ... or two once we were home. :-)
---
| | | |
| --- | --- | --- |
| RE: Been Missing From Here | | |
Bless your heart for taking care of those little birds!
Here's a pic of my little bird. She's 4 years old, and has been "sick" for most of that time. I drain her every few months, but its gotten so bad that she can't breath well enough while we're holding her to drain her. The weather got so cold that she almost died out in the coop, so here she is in my bathroom. I had to clean out her cage, so I set her in the bathtub. She seemed right at home in it! Her name is Nobie.
Sounds like everyone is on the mend at your house, which is good!

---
| | | |
| --- | --- | --- |
| RE: Been Missing From Here | | |
Oh dear little Nobie! So lovely! What's wrong with her? What needs to be drained? :-( You are soooo sweet to care for her!

We've had a ring-billed gull (or three) in our bath tub too.

Here's Billy.... What a difference a few days made!
*SIGH* I seem to recall I posted there's no new wild additions at the begining of this thing. We have a mouse today but that's a story in the making....
(Sorry! Didn't mean to make that sound so threatening.)
~~~~> Give Nobie a hug from me! One for yourself too! :-)
---
| | | |
| --- | --- | --- |
| RE: Been Missing From Here | | |
Billy looks great now.....and so handsome!
When Nobie was about 6 months, I noticed that she looked paler and smaller than the others. Then shortly after that, I found her in the corner of the coop. Her abdomen was sooooo huge. Her comb was very blue. I took her to an avian specialist who drained her abdomen of clear fluid. Without a lot more testing, she couldn't say what the problem was.....maybe cancer, a liver problem, heart defect, etc., etc. I just couldn't spend hundreds of dollars on treatment, so I brought her home and took her to the vets occasionally for draining. Then I decided to drain her myself. (My husband holds her for me). I know where to stick the needle, so as not to puncture any organs, and every few months withdraw anywhere from 100-600ccs of clear fluid. After that, she's very energetic and happy. But I have had to keep her in a separate pen in the coop, since the others would kill her, sensing she's sick.
Its been harder and harder to get fluid out of her, so I think its probably a slow growing cancer that's getting big now.
But a couple weeks ago, during the real cold weather, she started having lots of trouble breathing. I brought her into the house. We tried to drain her, but she couldn't breath and I thought she would die.....so I haven't been able to drain her. In case it was an infection, I gave her some antibiotics. She's doing alot better inside, but she still can hardly tolerate us holding her.
I'd like to take her back out to the coop when the weather gets nice, since I think she misses seeing the others (through a screen), but I'm getting used to having her inside! She's making a mess of my bathroom (throwing out pine shavings and food), but its so nice to be able to check on her easily all the time. She has her own TV too. I'm particular about what she watches, and I think sometimes that irritates her. hahahaha
She's a sweetie for sure. I honestly can't believe she's still here. She's real trooper!
Good luck with Billy. He's so cute!
---
| | | |
| --- | --- | --- |
| RE: Been Missing From Here | | |
Oh Goodness! Poor Nobie! Poor you! If it's a clear fluid more than likely it is a heart problem. I don't know that a chickie could survive a cancer that long.

Good for you for going the extra 13,000 miles to help Nobie!

C3D :-)
---
| | | |
| --- | --- | --- |
| RE: Been Missing From Here | | |
Thanks C3D.........I was thinking the heart too and she's probably in heart failure and having ascities. I've heard they have lungs sort of all through their bodies, and I'm thinking the fluid is really pressing on the lungs....which is why when we hold her, she can hardly breath.
I thought I had given up on draining her again, but we might be able to have her stand on top of her crate (that's on top of a card table), and maybe I can somehow get to underneath her, while she's at least standing on one of her own legs. (Maybe we can get hold of some oxygen to get her through the procedure!). If we can just get her drained, she will be so much more comfortable.
While I have you here.....let me ask you. I was going through a pet store today and saw those "cuttle" things. Is that the word? Its those white thin things that birds sharpen their beaks on. Would Nobie like one of those? I know that might be a silly question, but since she's never outside, I didn't know if it would help her beak? I've at least remembered to give her grit!
I've had chickens be perfectly healthy one day, and dead the next. But Nobie just keeps on ticking! She's something else. I figure if she's willing to try so hard, so should I!
---
| | | |
| --- | --- | --- |
| Little Nobie | | |
Hi again.

You're right. Nobie probably has ascites. Wonder if she'd do better with some lasix? Maybe ask you bird vet about that as an option?

The cuttle bone is a great source of calcium! Helps keep the beak in shape too. She might or might not use it. Smashed up oyster shell that's packaged up as grit for doves and other caged birds would provide her with calcium and the grit she needs for her digestion.

I have bought soooooo many of the cuttle bone thingies over the years for a variety of bird species. I can honestly say not a single bird EVER used one. The cuttle bone thingies were tossed after they got pooped on.

Birds and lots of animals appear fine one day and are gone the next. It is their instinct to hide any problems as long as they can. If they show they are weakened they may get eaten by a predator or knocked lower in the pack ranks. Unfortunately hiding stuff isn't good for them when they have loving people who are ready to help! Sometimes by the time they do show they have a problem it may be too late to help them recover. :-(
---
| | | |
| --- | --- | --- |
| RE: Been Missing From Here | | |
Awww, poor Nobie, Catherine! I'm SO glad she has you to look after her. She's such a pretty girl, too.

I love chickens, which I'm sure I've mentioned before. :D The neighborhood roosters crack me up when they run down the street. I can imagine I would look pretty hilarious if I was running down the street with no arms - hard to balance! LOL

Thanks for being such a great caretaker of such adorable rascals. :)

Brenda
---
| | | |
| --- | --- | --- |
| RE: Been Missing From Here | | |
Boy! Miss a day or two and you really miss stuff. I love Juncos. I think another name for them is Snowbird. I am enjoying all the stories although I am sorry for the crud and all the rest. Hope it doesn't come back and I hope What's his name's knee heals up fast, too. Sandy
---
| | | |
| --- | --- | --- |
| RE: Been Missing From Here | | |
Thanks CD3 and Brenda,
Gee Brenda, I'm so sorry. I didn't know you didn't have arms. No, you should definitely not run down the street. lol!
Chickadee........I gave her lasix for awhile after my first visit with the vet, but it didn't seem to make much of a difference. Maybe I should try it again.
I wish I could put a little stopcock into her abdomen, and just let it all out occasionally by turning a little dial!
Draining her takes awhile, and it doesn't always yield much. I think she has too many little nooks and crannies inside her for the fluid to hide in.
I've always found it interesting that when animals are sick, they don't whine and cry, like I do!! I like to think in terms of natural reasons why animals do certain things, and I hadn't thought about not drawing attention to themselves! That makes sense.
What foods should I avoid, to maybe keep the ascities down? Protein? Salt? I know I should quit salting her popcorn, and I probably should stop giving her that salty coctail sauce with her shrimp. hahaha
Seriously though.....are there any foods I should avoid?
She eats Purina layena pellets, scratch, some greens and fruits. I'm careful to not give her our softened water.
She's been pretty inconsistent about the amount of fluid she makes. It has definitely increased recently though.
She does best in a small crate, but last year she got mites really bad, and I'm thinking it was from the confinement. So I made a larger pen for her (about 3'x4'). Maybe its that increased space that allows her more acitivity, which stresses her heart more?
I also wonder if the seasons affect her differently.
She has never laid an egg. I'm sure her body knows it would be too stressful. But what's curious is that she's been squatting when I reach in to pet her. To me, that's a sign that she's ready to lay eggs. (or at least ready for a rooster). Maybe she just finally started perceiving me as the alpha male? Anyhow.....I got concerned that she might be even considering laying an egg.
It is so hard for me to know that where that line is......of doing all I can to extend her life......and letting her go. I just don't know if she's happy or not.
I get all sorts of existential questions going here!
I sure would like to try to drain her again, but its so traumatic for all of us! She decompensates/desaturates soooo quickly.
Thanks so much for your suggestions CD3. Keep them coming! :)

---
| | | |
| --- | --- | --- |
| Nobie | | |
"... I wish I could put a little stopcock into her abdomen, and just let it all out occasionally by turning a little dial!" ...
She could! It is called a Mini-Button. It is a pediatric sized gadget that is actually the port for a feeding tube. I see no reason why it could not be used to withdraw abdominal fluid!
I know you have lots of other questions for sweet little Nobie but I need to get to work. I'll try to find a link for the Mini-Button (made in Cleveland, Oh, BTW) and answer your other questions later today.
Take care.
C3D
---
| | | |
| --- | --- | --- |
| Nobie Questions / Answers | | |
Hi.

The fluid is clear, not yellow?

The amount of fluid withdrawn should only be enough to decrease her distressed breathing. There are air sacs in the abdomen maybe those get tapped sometimes and that's why you get less fluid? If too much is taken out at a time she can go into shock from fluid depletion and be in trouble with a protein depletion. Some kind of diuretic should help, like lasix.

Some kind of food of a low fat and low sodium would help. She needs protien. It helps keep the fluid out of her belly. Too bad there's no definitive diagnosis .. then we could hone in on more specifics for Nobie.

She drinks more water because although she's full of fluid she's dehydrated. When the fluid gets withdrawn the best would be for her to get IV fluids as a replacement.

Then there's the Mini Button or some sort of permanent tap for her belly. She'd need general anesthesia or at a minimum a local anesthetic and maybe ~twilighted~ to reduce stress. She could get a Foley catheter inserted into her belly and have it stay there as a permanent tap. The end can be closed and she can periodically be drained through this.

The Foley is a sofy rubber tube and is a nice thing to use but is in danger of getting snagged on things as it is long. She might need to wear a little shirt to keep the tube safe. If you are thinking about getting the low profile Mini Button, it won't get snagged. The stoma (hole in the belly) from the Foley would need to be 100% healed before using the Mini Button. It might be 3-4 weeks before the switch can be made.

The thickness of the skin around needs to be measured and the right size button ordered. The Mini Button people would give you the measuring device and help to get the right size. I believe there's a valve in the button part of the device so things don't back flow out. It is designed for food to go in not things to come out. You'd need to make sure the valve doesn't prevent withdrawl of fluid.

There's a little tube that locks onto the outside of the Mini Button and that allows the food to go in, or in Nobie's case, fluid to come out. Once you're done, the tube gets removed, the cap on the Mini Button is replaced and Nobie can run around with her belly button. It's a *very* nice thing!

A potential drawback for the permanent fix is infection. The site must be sealed and kept clean. But there's some options to consider.

Here's a link to the Mini Button people. They are *VERY* nice. You could probably call them and discuss what you need and they may have something for that purpose that's better than the Mini Button.

We used one for one of our kitties who had cancer as a feeding port. In 2000, one Mini Button cost me about $90.00 but it lasted about 3 months each.

C3D
Here is a link that might be useful: Applied Medical / Mini Button
---
| | | |
| --- | --- | --- |
| RE: Been Missing From Here | | |
Thanks C3D,
It sounds like an interesting option.
Yes, her fluid is totally clear. I did ask the vet if she could have a cardiovascular collapse after removing too much, and she said it could happen, but probably wouldn't. I have taken out tons at a time, and she was fine with it. Although I realize that might not always be the case.
I hadn't thought about the need for high protein. She seems to be eating her Layena well. Maybe I should supplement her with some dry cat food? I think its higher protein.
When we drain her, I've been using an angiocath. It works great because I can withdraw the needle, and leave a more flexible tube in there, while I draw out the fluid. I've been reusing them, after soaking them in a 15% bleach solution.
I usually give her 2 days of Baytril after the procedure.
She has never gotten infected. Too bad we can't drain her from on top of her! I can't even pick her up without her comb darkening. When I first brought her in from the coop, when she was having more problems, she would appear to just about arrest if we held her, but would revive if we quickly put her down.
It just seems that, over the course of last year, I'm getting less and less fluid out. And it feels like something is displacing what was open areas in her abdomen with solid mass..........so maybe she's got several things going on.
Hubby didn't think he had anymore angiocaths, but did find an 18 gauge....which would be good. It takes about10-15 minutes at least, to draw off the fluid. I was thinking, since she can't tolerate being held, maybe I could quickly make 3-4 punctures in her, and things could drain by gravity?
She used to drain alot afterwards too....which was good. But in the last year, she doesn't drain like that anymore.
I suppose scratch isn't good for her, right? She loves it so much. I give her a little every day, just to let her satisfy that need to find things on the floor!

I had another buff orp, Floppsie, who had a big firm abdomen too. I drained her, but it was bright green. Not a good sign. She died shortly after that. What would the green mean? I was thinking it had something to do with sepsis from maybe internal egg laying??

Too bad most vets know so little about chickens. I'm lucky to be so close to the only Avian vet in the state. I do spend time on a chicken forum, which is very helpful too.
But I sort of decided awhile back, after spending hundreds of dollars on them, that I would make them comfortable, but would pretty much try to take care of them myself.
I'm okay with that position........but its still not an easy one.

I had 17 hens to start with, and now I'm down to 11. Each and every death is so hard on me. I think I lost a couple to maybe broken necks from falling off the roost.
Whitney had some problem I never figured out, but she survived. She was in her own cage for a long time, and when she seemed quite strong again, I put her with the others for a very short time, while I was right there. Of course, they all jumped on her, and I quickly removed her and put her back in her own cage. I went out a couple hours later, and she was dead. I was so mad at myself. That was a hard one to get over.
They're all hard to get over! I'm not looking forward to the next 11! I love those girls.
Thanks for your help Chickadee.
---
| | | |
| --- | --- | --- |
| Chickies | | |
Sounds like you have it down to a science. Maybe Nobie drains less because she's forming scar tissue in her belly and more nooks-n-crannies? I don't know the fat content of your kitty food. Try to find a low fat food as a supplement but keep her on her regular diet. After all ... she's made it this far! A sudden drastic change may alter how she compensates and cause a crisis situation. Basically if it isn't broken, don't fix it. Just increase the protein some and decrease the fat some and we should be fine.

A green fluid? Hmmmm. The first thing that comes to mind is a gall bladder issue. It is absent in the Amazon Parrots and Psittacula krameri (Indian Ring-necked Parakeets). The presence or absence of a gall bladder oddly enough seems to be variable even in individuals of a given species!

The green could be a sepsis or less likely an indication of bleeding with a partial breakdown of the red blood cells causing a greenish hue. Something like the internal egg or egg peritonitis has a yellow fluid but if there's an infection who knows what colour it may turn. Whatever the cause ... not good. :-(

Sometimes it doesn't matter how much money you have or don't have, the outcome will be the same. You also need to weigh how much do we put our pet through Vs their quality of life or prognosis with the procedures. All kinds of tests and recommendations for this and that can be made but ultimately only the people closest to the pet know the right answer because it is the right answer for them.

Hugs for Nobie and you. :-)
---
| | | |
| --- | --- | --- |
| RE: Been Missing From Here | | |
Thanks CD3.
I'm only posting this pic to show you the color....which I found very interesting. I hope its not being morbid. This was what I got out of poor little Floppsie.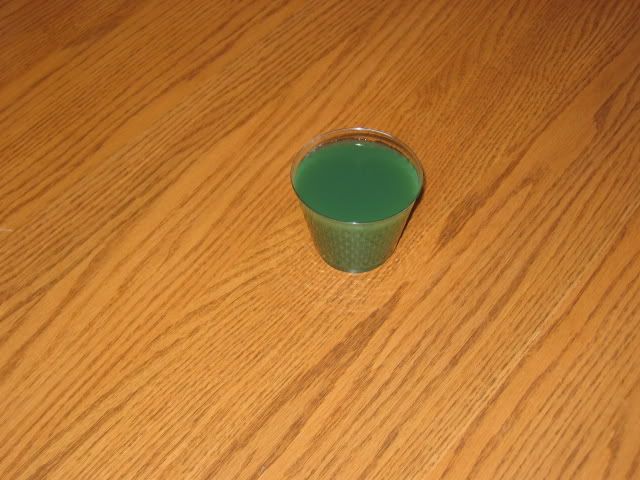 ---
| | | |
| --- | --- | --- |
| RE: Been Missing From Here | | |
P.S. Sorry for hijacking your thread!
---
| | | |
| --- | --- | --- |
| OY! Nobie! :-) | | |
WOW!!! x 13!

That sure looks like a gall bladder thing to me but I am not an avian specialist. I am not an anything specialist! Maybe show this to your bird vet as an answer for what had happened.

Well, dang! I actually had just given my poultry medicine books away about three weeks ago to someone who is studying for the vet licensing exams. Poor timing! Sorry! Sorry!! Sorry!!!

I'm sooooooooooooo sorry you feel the need to apologize for "hijacking" the thread. There's no hijack! :-) I am very grateful to have had the opportunity to have "met" sweet little Nobie! Thanks!!!

I hope you know that this forum isn't as ~strict~ in their rules for posting stuff as others may be. It isn't MY thread at any time. It is some stuff to share and if it leads to a better topic..... so the better! :-)

C with 3Ds
---
| | | |
| --- | --- | --- |
| Forgot to add..... | | |
Love your new moniker...catherinetÉ . :-) !!!
---
| | | |
| --- | --- | --- |
| RE: Been Missing From Here | | |
Thanks CD3,
yes, I think Floppsie must have had something wrong with maybe her liver or gallbladder. When we first drained her, I was soooo hoping it would be clear like Nobie's, but it sure wasn't.
I wished I'd kept better notes on all my previously sick chickens. I'm always sure I will remember all the details, and then I don't!
hahaha about my name. A week or 2 ago, I was "Catherieu'" now I'm CatherinetE'. I don't know whether to feel special or paranoid? hahaha

---
Post a Follow-Up
Please Note: Only registered members are able to post messages to this forum.
If you are a member, please log in.
If you aren't yet a member, join now!
---
Return to the Ponds & Aquatic Plants Forum
Information about Posting
You must be logged in to post a message. Once you are logged in, a posting window will appear at the bottom of the messages. If you are not a member, please register for an account.
Please review our Rules of Play before posting.
Posting is a two-step process. Once you have composed your message, you will be taken to the preview page. You will then have a chance to review your post, make changes and upload photos.
After posting your message, you may need to refresh the forum page in order to see it.
Before posting copyrighted material, please read about Copyright and Fair Use.
We have a strict no-advertising policy!
If you would like to practice posting or uploading photos, please visit our Test forum.
If you need assistance, please Contact Us and we will be happy to help.

Learn more about in-text links on this page here