Return to the Trees Forum
|
Post a Follow-Up
---
| | | |
| --- | --- | --- |
| List Your Top 10 Street Trees | | |
Posted by
slimwhitman
6b (
My Page
) on
Thu, Jul 2, 09 at 11:30
List Your Top 10 Street Trees

This is a bit of a fuzzy question since there are all kinds of scenarios like limited available width, power lines, rural or urban, sandy soils or compacted clay and on and on. But I ask the question anyway to see what kind of replies you folks come up with.

Street trees are generally considered the trees within 8' or so of the street edge and would be planted in mass to develop a nice street experience. All should be reasonably tolerant of road salts and should also be low maintenance. Long life seems like an important feature as well. Even if you don't have 10, list however many you have.

And, by the way, if you are on Facebook, here is a Street Tree fan page you can join:
Here is a link that might be useful: Facebook 'Street Trees'
---
Follow-Up Postings:
| | | |
| --- | --- | --- |
| RE: List Your Top 10 Street Trees | | |
Here is my list:
BUR OAK: Long lived, tough as nails, not really that slow in adverse soils and a deep rooter. A bit large, will not be as large when poor soils confine it.
ZELKOVA: Excellent form for cities, tough, nice fall color. Very distinctive vase shape.
GINKGO: Good urban tree that has an upright, friendly, open habit that is good for more urban conditions. A bit peeked and wiry when in poor and compacted soils.
RED OAK/SHUMARD OAK: These are great large trees. In my city, the most amazing older neighborhood street tree streets have Red Oak. Shumard is similar and perhaps a bit more tolerant of poor soils.
BALD CYPRESS: Not often used as a street tree, but should be. Tough and with a great central leader. An entire street of these is a sight to behold. I would also consider Dawn Redwood as an option.
STERLING SILVER LINDEN: (Tilia tomentosa 'Princeton') The best linden available.
EMERALD SUNSHINE ELM: (Ulmus propinqua 'JFS Bieberich') I have been very impressed with this new cultivar. Other elms of equal value might be: Ulmus parvifolia Allee or Athena, Ulmus americana Valley Forge, Ulmus hybrids: Accolade, Triumph, Prospector, Commendation.

Some smaller trees for power line usage:
SHANTUNG MAPLE: Great under power lines. Very tough. Been used as a downtown Wichita street tree with success. If it can do well there, imagine how well it does further east.
METRO GOLD HEDGE MAPLE: (Acer campestre 'Panacek') Again, a tough tree for under utility lines.
STATE STREET MIYABE MAPLE: (Acer miyabei 'Morton') This is a great small tree.

Several other trees would be on my top 20 list including: Hardy Rubbertree, Turkish Hazel, Caddo Sugar Maple, Bloodgood Planetree, White Oak, Scarlet Oak and Swamp White Oak.
---
| | | |
| --- | --- | --- |
| RE: List Your Top 10 Street Trees | | |
Depends upon your climate as well as width of treelawn (or existence thereof), where is utility easement, land use, setbacks. I like Slim's list a lot, but in Colo some of those won't work.

An interesting question nonetheless.

Dan
---
| | | |
| --- | --- | --- |
| RE: List Your Top 10 Street Trees | | |
Dan - So then....what would be your list for Colorado?
---
| | | |
| --- | --- | --- |
| RE: List Your Top 10 Street Trees | | |
I did one for the last town I worked in, which I wouldn't copy for down here in Denver Basin. That is: IMHO in this landscape it should be by city - our landscape diversity and harsh climate makes broad-brushing problematic.

Our lists are necessarily not extensive, but many of us nearby here can do bur oak , TX red oak, shumard oak, 'Bloodgood' plane, swamp wh oak, Celtis o., KY coffeetree, honeylocust, Catalpa speciosa, Tilia mongolica (attached sidewalk). Some of the city foresters are doing some of the Freeman maples (chlorotic), northern red oaks, English oaks, a couple of the ashes (knowing limb dieback will occur), a couple of the lindens (knowing leaf scorch and twig dieback will occur) for spp diversity with some success.

We did a large ROW planting last fall and we might have had a couple of the new elms in there as well, a couple hedge maples, maybe one or two others, mostly attached sidewalks...

Dan
---
| | | |
| --- | --- | --- |
| RE: List Your Top 10 Street Trees | | |
Tilia mongolica? That's a new one for me. I will check that one out. Often times we work on projects in western KS and the pH in the 8's gives us trouble.

I like your pick of Texas Red Oak. Do you specify Q.buckleyi or Q. nuttallii, Q. rubra var. texana, Q. shumardii var. texana? Here is an article I like that explains them:
Here is a link that might be useful: Dr Griffin, KSU - Texas Red Oak Article
---
| | | |
| --- | --- | --- |
| RE: List Your Top 10 Street Trees | | |
Good arty, I'm going to pass that along thank you. Q. rubra var. texana is how it is (sparingly, but growing) done here, IIRC that is how the Denver BG does it.

We're trying to get a Q. muehlenbergii for a replacement in the back yard to try, hard to get here yet, even tho a recent...hmm...SMF...ISA plant of the year? Forget.

I'd like to see the Q. buckleyi get taller for around here, as we have an AFB of the same name in the area, but I can't see trading the benefits of a larger tree, unless it takes parking lots - have you seen such an application for this plant?

I'll ask down south when I see someone and see where they get their T mongolica from, specified in COS and thereabouts, not as tall as the spp., few private trees up here.

Best,

Dan
---
| | | |
| --- | --- | --- |
| RE: List Your Top 10 Street Trees | | |
Favorites here in Minneapolis

Hackberry
Ginkgo
Red Oak
Catalpa

Under powerlines, crabapples
---
| | | |
| --- | --- | --- |
| RE: List Your Top 10 Street Trees | | |
Willow Oak
Live Oak
Sugar Maple
American Sycamore
American Elm (pre Dutch Elm Disease)
Crape Myrtle (taller varieties for areas with powerlines)
Eastern Red Cedar (spaced out so it doesn't look like a wall of trees)
---
| | | |
| --- | --- | --- |
| RE: List Your Top 10 Street Trees | | |
Long-term studies of urban tree-plantings linked here in the past showed that generally Honeylocust was the best urban performer, at least in the northcentral & northeast US. Many oaks did well if they were given reasonable-sized root zones.
---
| | | |
| --- | --- | --- |
| RE: List Your Top 10 Street Trees | | |
Zelkova serrata Village Green
Willow Oak
Red Oak
Turkish Hazel
Chinese Elm
White Oak
Korean Mountain Ash
Shingle Oak
Shumard Oak
Sophora japonica
---
| | | |
| --- | --- | --- |
| RE: List Your Top 10 Street Trees | | |
Sophora japonica
Have I missed something and have they finally come out with a litter-free cv.?
Dan
---
| | | |
| --- | --- | --- |
| RE: List Your Top 10 Street Trees | | |
"Sophora japonica"

Now Styphnolobium japonicum

"Have I missed something and have they finally come out with a litter-free cv.?"

No live tree is litter-free, only artificial plastic ones! Styphnolobium japonicum isn't particularly bad as trees go, the leaves are very small, so easier to clear away and less likely to form deep drifts of leaves.

Resin
---
| | | |
| --- | --- | --- |
| RE: List Your Top 10 Street Trees | | |
Freeman Maple – for wider tree lawns, Redpointe is a newer cultivar that looks good so far
State Street Maple – "this is a great small(?) tree", it's definitely a great tree & over time will grow fairly large
Ginkgo – (male cultivars) Autumn Gold, Magyar
Coffeetree – (male cultivars) Espresso
Sweetgum – only cultivars with less seed like Happidaze and Burgundy Blush (not entirely hardy here in MI, but they perform well in some regions)
Forum Blackgum – not for higher pH soil, but has nice upright form
Planetree – tough trees, but messy; the Morton intros (Exclamation, Ovation) are better than Bloodgood
Heritage Oak – this is a great tree (Bur x English)
Red Oak – somewhat variable, but still a good street tree
Chinkapin Oak – Society of Municipal Arborists Urban Tree of the Year (2009)
Baldcypress – (cultivars) Shawnee Brave has nice upright form
American Sentry Linden – nice upright form
Harvest Gold Linden – (cordata x mongolica) newer variety, nice upright form & good hardiness
Prestige Linden – (a cordata selection) nice upright form
Silver Linden – wider tree lawns preferable, Sterling is probably the most widely available, but Green Mountain is just as good or better
Elm – (cultivars) for wider tree lawns, Accolade and Triumph are both very good
---
| | | |
| --- | --- | --- |
| RE: List Your Top 10 Street Trees | | |
I'm in a little warmer zone that those that have posted so far, but I think you'll see some repetitiveness:

Oaks:
Monterrey
Burr
Shumard
Chinqapin

Bald Cypress
Mexican Sycamore
Lacebark (Chinese) Elm
TX Sabal Palm
CA Fan Palm

While Live Oaks and Bradford Pears are EVERYWHERE around here,that's the exact reason they're not on my list. Too overplanted.
---
| | | |
| --- | --- | --- |
| RE: List Your Top 10 Street Trees | | |
These below seem to work well, and if not in inner city areas, at least for urban neighborhoods.

Hornbeam
Zelkova
Beech
Linden
Ginkgo
Crimson Sentry red maple

A few miserables:

Honeylocust > unruly, high casualty rate
Flowering pear > far too brittle
Sweet gum > root damage to concrete

It's too bad that giant sequoia don't have space as street trees. I think that the triangular grassy areas beteen highways and the on and off ramps should be planted with groves of those.
---
| | | |
| --- | --- | --- |
| RE: List Your Top 10 Street Trees | | |
the pick of the crop

sycamore
linden
sugar/red maple and varieties
bur oak/northern red oak

paper birch (would recommend zone 4a or cooler for this or along a water body that cools summer temps)

Don't plant the following near houses:

weeping willows can be pretty on large properties, not a yard tree for close to the house but that doesn't stop some people from growing them. They have their place in the landscape and can be very pretty when pruned to keep em upright and not so spready. If you live along a river, you can plant one safely, the majority of the roots will take the water from the river, and not from your house.

My mother has a large hybrid willow some 30 feet tall next to her garden, literally right next to it, and has no problems growing garden items in the garden and tilling the garden... the claims the roots choke out all other plantlife in the area seem to be a bit exaggerated. With that said, I still don't know if I'm going to try out a weeping willow... there is a slower growing hybrid in her yard that has a very upright looking leaf structure I might try though... I should get pictures of it and have the people here ID it.

cottonwoods are pretty, but I hear they sucker bad so I haven't included them in my yard yet.. another one my mother has growing in abundance in her yard, cottonless cottonwoods. They've got 9 acres though.. no sweat. Still, some of her trees are spaced too closely and there's a weeping willow she just planted last year close to the house that I wouldn't have put so close. :)
---
| | | |
| --- | --- | --- |
| RE: List Your Top 10 Street Trees | | |
Honeylocust....thornless?
---
| | | |
| --- | --- | --- |
| RE: List Your Top 10 Street Trees | | |
In my town, I asked the town about planting in the h*ll strip and they say it is strongly "discouraged" but not exactly on the book that it's banned so I'm just going to ignore them. I plan on planting 3 'Nanjing Beauty' taxodium (MontezumaxBald hybrid cypress) in limestone soil because I know they will grow upright and tolerate that high pH.

I can't see that with shantung maple in the strip though since they seem want to grow low branches out in the open with a lot of winds. I have a lot of them in the yard though mainly for the fall color.

Texas Red Oak is officially Q.buckleyi which is totally different than Q. nutalli. Very nice oak tree. Smaller than Shumard oak with nicer leaf shape. Seems to have good fall color. It is easy to tell them apart by looking at the buds during winter. In my town, I often found them growing on limestone soil when I went on a hike looking for the acorns. It stays smaller from 30 to 50 feet with possible multiple trunks while Shumard oak is single trunk that grows to be 50 or more over time. Unfortunately, it is a huge problem here with shurmard oak. Maybe they are wrongly labeled or actually Shumard from acidic soil that they can't thrive in alkaline soil in my town. Big, big, big problem.

Mexican white oak sure is a fast grower. Great alternative to Live oak in Texas because of oak wilt problem.

Chinkapin oak is a nice oak tree. I found a cheap one for neighborhood park and it turned out to have nice purple-reddish fall color which is not common so that is a pleasant surprise. All Chinkapin oaks that I saw had ugly yellow-brown fall color which was nothing to write home about but nice looking that can tolerate dry and alkaline soil.

I grew up in Houston and there was one very old neighborhood where Live oak trees lined up the street by Rice University (I think). It was very nice! These days, builders or street builders don't care so they end up dead unfortunately.
---
| | | |
| --- | --- | --- |
| RE: List Your Top 10 Street Trees | | |
lou_midlothian_tx said: "In my town, I asked the town about planting in the h*ll strip and they say it is strongly "discouraged" but not exactly on the book that it's banned so I'm just going to ignore them."

What a tragedy. The problem with many city regulators is that they only see the costs of amenities and not the benefits. A street without street trees is a sad and sterile place not worth caring about. Most planners and city engineers don't 'get it'. That's just too bad for your city.
---
| | | |
| --- | --- | --- |
| RE: List Your Top 10 Street Trees | | |
Jacaranda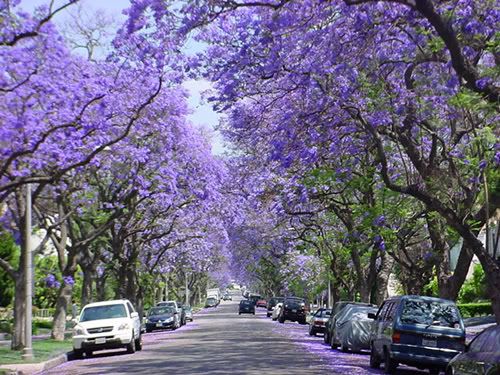 ---
| | | |
| --- | --- | --- |
| RE: List Your Top 10 Street Trees | | |
Slimwhitman,

It is REQUIRED where my brother lives (Cy-Fair not far from Houston). His whole street is all live oaks in 3 feet wide hell strip. In fact, pretty much all of trees on that tree are live oak trees. That's kinda dumb considering oak wilt threat. Oh well. The tree list was like 4 trees only. Bradford pear, bald cypress, live oak and Shumard red oak. It was from 1980s and his house was only a few years old. Crazy.

A major road filled with 20-30 years old live oak in Houston were removed to re-do the street only to be replanted with new 10 ft live oaks. Talk about poor planning. Live oak isn't exactly fast grower. They could have just gone with Mexican white oak or Montezuma cypress which are much faster grower. Government... Shesh...
---
| | | |
| --- | --- | --- |
| RE: List Your Top 10 Street Trees | | |
I just asked this question to 17 local experts and the winner was Swamp White Oak.
---
| | | |
| --- | --- | --- |
| RE: List Your Top 10 Street Trees | | |
Fall color can be insignificant, but the I love the one I planted in my landscape...I wish the peely bark was a trait of older trees.
---
| | | |
| --- | --- | --- |
| RE: List Your Top 10 Street Trees | | |
I can't list ten, but I have to say that the most beautiful street I have ever been down was in Japan and it was lined with mature Sakura trees. In the spring it was breathtaking and during the summer the trees were green and provided wonderful shade. I love driving down a street that looks like a green tunnel, but a pink tunnel is amazing : )
---
| | | |
| --- | --- | --- |
| RE: List Your Top 10 Street Trees | | |
Tristaniopsis laurina is very popular here, because it is small and fits under the wires very nicely.

>
---
| | | |
| --- | --- | --- |
| RE: List Your Top 10 Street Trees | | |
Here in the city, the ones that do the best, I've noticed have been the elms, sycamores, london planetrees, and sweetgums. Oaks too. Maples seem to really struggle on the tree lawns in the city of Cleveland (except silver maple of course). The locusts seem straggly and nasty but do OK.

My personal favourite is the elm or oak.
---
| | | |
| --- | --- | --- |
| RE: List Your Top 10 Street Trees | | |
We had a small tornado come through town last summer that blew over or broke most of the boulevard trees (Norway Maples) for several blocks. This year the city replaced them all with Kentucky Coffee Tree. Love the tree, but I don't think I have ever seen it in a boulevard around here.
---
| | | |
| --- | --- | --- |
| RE: List Your Top 10 Street Trees | | |
I think Kentucky Coffee Tree would be so much more poplular in the landscape (I know you're talking street trees) if it didn't leaf out so late and/or had fall color.

Winter silouettes are quite stunning.
---
| | | |
| --- | --- | --- |
| RE: List Your Top 10 Street Trees | | |
1. No question, imo, the disease resistant varieites of the American Elm are the best street tree for all the former reasons elms dominated the urban/suburban forest. Best varieties are Princeton Elm, Jefferson Elm, and Valley Forge.
2. Scarlet Oak.
3. Honey Locust.
4. Sugar Maple.
5. London plane tree, aka Sycamore.
6. Red Maple.
7. Northern red oak.
8. Ginkgo.
9. Sassafras.
10. Linden.
---
| | | |
| --- | --- | --- |
| RE: List Your Top 10 Street Trees | | |
Accolade Elm is commonly planted in narrow strips around here and I've noticed they are starting to decline in high numbers....I'm talking plantings 5-10 years old.
---
| | | |
| --- | --- | --- |
| RE: List Your Top 10 Street Trees | | |
Whaas - what do you think is causing the decline of the Accolade elms at your location? You said "planted in narrow strips" - could that be part of the problem (restricted rooting area with poor soil)? Elms in general, although tolerant to difficult growing conditions, should be reserved for wider planting strips.

I haven't noticed any serious problems on Accolades in this area (other than some Japanese beetle damage and occasional leaf miner). Accolade (and Triumph) so far appear to be relatively resistant to other leaf feeders (elm leaf beetle and elm flea weevil). In my observations, both Accolade and Triumph have just as good, if not better looking foliage throughout the season compared to other elm cultivars (native and non-native). And these 2 varieties have the potential to grow relatively large (& vase-shaped) similar to American elm.

Another new elm with good foliage (but probably not quite as large at maturity) is Emerald Sunshine - see link.
Here is a link that might be useful: Emerald Sunshine Elm
---
| | | |
| --- | --- | --- |
| RE: List Your Top 10 Street Trees | | |
Gingkoo biloba in any urban environment--hands down.
---
| | | |
| --- | --- | --- |
| RE: List Your Top 10 Street Trees | | |
Ginkgo? No thanks. When everything is right, I have been happy with them, but never in an urban "parkway" where a mower or weedwacker might touch it. We have streets and streets of them planted in the '80s & early '90s where half of them have grown about 2 feet..in 20 years! Plus, too often the plants that go in are not true male cultivars and we end up with a dozen or so that fruit (even though we were gaurateed these were male clones!).

No thanks...too many other trees give me less trouble.
---
| | | |
| --- | --- | --- |
| RE: List Your Top 10 Street Trees | | |
Its likely the 5-8' wide strips that they were planted in. Its quite obvious one particular nursery/landscape company utilized them for these strips...would be odd that several companies in various communities would do the same thing.

I rarely see nice sized/shaped Ginkgos in urban locations (my area).

Speaking of Ginkgos my village planted many in a 20-25' wide median (about 15 years ago) and many of them only have 1/3 canopy and they are all only about 10' tall.

Is it possible that they weren't planted improperly? Its odd to see Ginkgos in decline...I wonder if their trunks where damaged?
---
| | | |
| --- | --- | --- |
| RE: List Your Top 10 Street Trees | | |
Ginkgos - My observations have been that the trunk does get damaged very easily. This minor damage rarely kills the tree, but stunts it badly. In locations where the caretaker is diligent to keep a large mulch ring to protect the tree, then it has a good chance to do well. But how often do we see that condition for a city street tree? Tree wells with protection, like a mini fence, seem to do better.

As for "were the trees propery planted?"... It seems most trees are planted wrong, no matter what the species.
---
| | | |
| --- | --- | --- |
| RE: List Your Top 10 Street Trees | | |
So I guess the question we should ask ourselves is...if most trees are planted incorrectly, and so many trees do so well out there (the vast majority of trees I see in my daily life are just fine), is it worth stressing out over?

Pertaining to the elms in a 5'-8' tree lawn - that is the size of all the tree lawns in Cleveland and the inner ring suburbs and elms, sycamores, london planetrees, ashes, and at one time, elms did just fine there. There's no reason they still couldn't do well. If the elms thrived on a 5' tree lawn before, they should do so again.

I saw a few large gingko's today. However, they weren't in tree lawns. Interesting discussion on the gingko.

I would have to disagree with sugar maple being a good street tree...I've seen many struggle, especially here in the city as opposed to our in the suburbs.
---
| | | |
| --- | --- | --- |
| RE: List Your Top 10 Street Trees | | |
Good to see a (delayed) discussion on the subject!

I asked 17 local arborists (and a few nurserymen) this question. Not run of the mill tree trimmers, but true tree nerds. I had them fill out a database that I could quantify their opinions as numeric ratings. I had 378 trees on the list and here are the top street trees as chosen by them:

1. Quercus bicolor Swamp White Oak
2. Tilia tomentosa 'Princeton' Sterling Silver Linden
3. Tilia americana 'Wandell' Legend American Linden
4. Acer miyabei 'Morton' State Street Miyabe Maple
5. Taxodium d. 'Shawnee Brave' Col. Bald Cypress
6. Ulmus x JFS Bieberich' Emerald Sunshine Elm
7. Ulmus x 'Frontier' Frontier Elm
8. Ginkgo biloba 'Autumn Gold' Autumn Gold Ginkgo
9. Acer x trunc. 'Keithsform' Norwegian Sunset Maple
10. Acer x truncatum 'Warrenred' Pacific Sunset Maple
11. Gymnocladus dioicus 'Expresso' Kentucky Coffeetree
12. Quercus shumardii Shumard Oak
---
| | | |
| --- | --- | --- |
| RE: List Your Top 10 Street Trees | | |
If you ask me those are good home landscape trees as well.

I have 4 of the 12 on my little 1/3 acre.

Gymnocladus dioicus 'Expresso' Kentucky Coffeetree is next if my Lilac Tree croaks.

I'll see if I can get some pics of the Accolades, one location is at the grocery store I shop at. At least 10 or so look ratty.

I don't know how a Sugar Maple could be a street tree. They are actually picky in regards to compaction, space and soil type.

Turkish Filbert is another good one if no one listed it...it is a slow grower though.
---
| | | |
| --- | --- | --- |
| RE: List Your Top 10 Street Trees | | |
Slimwhitman, your list of 12 is a good one.

Sterling Silver Linden is not 'Princeton'; Green Mountain was introduced by Princeton Nurseries, I believe. Sterling was introduced by Willet Wandell. Both varieties are great trees.

Norwegian & Pacific Sunset maples haven't performed as well as I had hoped here in MI - inconsistent fall color, and not very distinct from straight Norway maple.

Shumard oak has a large native range, and those from southern seed sources have not performed very well here.
---
| | | |
| --- | --- | --- |
| RE: List Your Top 10 Street Trees | | |
What is the difference between Norwegian/Pacific Sunset maples and a straight up Norway Maple?

I really hate the monkeyballs they make, but at least in my neighborhood, sweetgums and sometimes oak really make the best "large" street trees. The sweetgums are just so happy on my street.
---
| | | |
| --- | --- | --- |
| RE: List Your Top 10 Street Trees | | |
Norwegian is taller and more upright than Pacific.

The hybird is more drought and heat tolerant than the straight Norway...thats the Acer truncatum parentage.
---
| | | |
| --- | --- | --- |
| RE: List Your Top 10 Street Trees | | |
My list is for Southern California. I'm no tree expert but I chose my list for eye appeal. My list also features a lot of palms. They just do so well here.

1. London Plane. This is my favorite. I sat in a restaurant on a corner that had their parking lot shaded by very large planes. Looking out the window at them I was very impressed by how un-So Cal they looked. I had the illusion of being someplace greener and more northerly or mountainy.

2. Deodar Cedar. Stately, classy and tough in So Cal.

3. Mexican Fan Palm. These are stunning when a street is lined with 100 foot tall ones.

4. Canary Island Date Palm. This one is actually better planted in medians. Just so pretty with a beautiful form. I like them best when not over-trimmed so the fronds make a perfect sphere.

5. Jacaranda. Yeah they're messy but the purple clouds they turn into are stunning.

6. Crape Myrtle. Again stunning colors in flower, fall leaves and beautiful winter form -if they are not pruned in a ghastly manner. Crapes only need removal of root suckers or limiting number of trunks.

7. California Fan Palm. The trunks of these are like pillars wide with a gradual taper. They make a beautiful living colonnade. I like them alternated with something colorful like Crapes.

8. California Live Oak. Love the twisting branches and dark bark of this one.

9. California Sycamore. The leaning trunks and zig-zagging branches of this one are picturesque. I love the big hand shapes leaves. Sycamore also has this sweet spicy scent.

10. Queen Palm. The feathery airy fronds of this one wave and whisper in the slightest breeze.

There are other trees I like. I am fond of Sweetgum but here in so cal they topple in the wind a little too often for me and they're prone to a fatal die back. I also like tuliptree but they spit sticky stuff all over sidewalks and cars.
---
| | | |
| --- | --- | --- |
| Maples - Elms not gingkos | | |
Slimwhitman and Whaas,
Gingkos here in Chicago burbs get decent tall (40 feet) but are thinly vegetated. They don't provide much shade at all. I live in an older town that is lined with 100 year old giant elms and now more maples since dutch elm disease. Lines of big shade trees make a HUGE difference in summer, you can feel 10+ degrees difference when you walk from sun to shade. I don't get that at all with the ginkgo. So here is my list:

1) Maples
2) 100 year old giant disease proof elms

A street lined with maples in fall is a sight to behold, one of my favorite memories. I will post pics if I remember in October (you can remind me).
---
| | | |
| --- | --- | --- |
| RE: List Your Top 10 Street Trees | | |
How different are growing conditions/natural flora in Chicago than Cleveland? I've never been to Illinois. I would have to say it might be drier, hotter, and less trees and more grasses?

In any event, I too have noticed that gingko's don't exactly thrive. The ones I see tend to be taller than they are wide and I can't see them being good street tries that provide a stately, nice shade.

I LOVE the ashes on the other side of my street. The whole street is lined with them and they are the most beautiful arching trees. They are being treated for ash borer instead of being chopped down. If it weren't for the ash borer , i'd so recommend them.
---
| | | |
| --- | --- | --- |
| RE: List Your Top 10 Street Trees | | |
Thats why Gingkos aren't great street trees. There are a bunch in downtown Milwaukee and only 1 in 5 have a decent crown. I don't know if its due to the growing conditions, soil limitation or again their general "uniqueness". I have however, seen many impressive landscape specimans.
---
| | | |
| --- | --- | --- |
| RE: List Your Top 10 Street Trees | | |
Krycek1984,
I think Cleveland has more cloudy days and a little more temperate (warmer winter, cooler summer) climate than Chicago / Northern Illinois. Downtown Chicago is on Lake Michigan and close to the lake is more temperate like Cleveland. I am 20 miles from the lake. We have lots of trees like suburbs of Cleveland, I was in Euclid last October and it was beautiful, just like my suburb of Chicago in October.
Regarding the gingkos, they seem to be well liked for exotic specimen kind of trees. Maybe they get more leaves and branches in southern climates. But wherever I see one on a street here where I am walking in summer, I wish there was a big elm, maple, oak or ash to cool me off and rest my eyes. Shade helps the lawns in hot summers too.
---
| | | |
| --- | --- | --- |
| RE: List Your Top 10 Street Trees | | |
Ginkgos:
They are not a tree I often use as a street tree. They seem to mysteriously produce stinky fruit later on.
To see the discussion on that subject, go here:
Here is a link that might be useful: Male Ginkgo (not really male!)
---
| | | |
| --- | --- | --- |
| RE: List Your Top 10 Street Trees | | |
Top Ten I've seen planted around streets and highways around center of Texas in last few years :
Live Oak
Cedar Elm
Bur Oak/Shumard Oak
Bald Cypress
Eastern Red Cedar
Afghan Pine
Red Bud
Mexican Plum
Crepe Myrtle

Surprisingly no Ash.
---
| | | |
| --- | --- | --- |
| RE: List Your Top 10 Street Trees | | |
With the summer heat in full swing right now, it is a good time to notice trees that do a better job of shading the street and surviving the less-than-ideal location they are asked to live in.
---
Post a Follow-Up
Please Note: Only registered members are able to post messages to this forum.
If you are a member, please log in.
If you aren't yet a member, join now!
---
Return to the Trees Forum
Information about Posting
You must be logged in to post a message. Once you are logged in, a posting window will appear at the bottom of the messages. If you are not a member, please register for an account.
Please review our Rules of Play before posting.
Posting is a two-step process. Once you have composed your message, you will be taken to the preview page. You will then have a chance to review your post, make changes and upload photos.
After posting your message, you may need to refresh the forum page in order to see it.
Before posting copyrighted material, please read about Copyright and Fair Use.
We have a strict no-advertising policy!
If you would like to practice posting or uploading photos, please visit our Test forum.
If you need assistance, please Contact Us and we will be happy to help.

Learn more about in-text links on this page here